About Quilts Blog
The Quilts Blog is my mini journal about Quilts. It...
* lets you know whenever any new Web pages appear on All About Quilts, telling you about a new tip, technique or pattern
* keeps you up-to-date with other postings or news about quilts
To subscribe to my Quilts blog (no e-mail address necessary), RIGHT-click on the orange RSS button and then copy-and-paste the URL of this site's RSS feed into your RSS reader. OR...
Or click on the Google, My Yahoo!, My MSN, or Bloglines button if you keep a personalized home page there. Follow their instructions.
If you are not sure what RSS and blogging is all about, click the question mark "[?] Subscribe to this site" above the RSS orange box on the left.
Nov 02, 2017
Baby Busy Book Started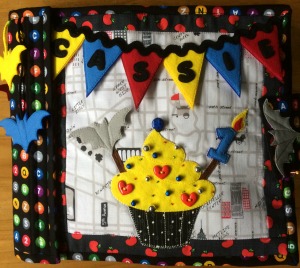 Are you thinking about making a busy book for a wee one - then check this one out for some inspiration.
Made for my granddaughter's 1st birthday it has several tactile pages and where necessary zip pockets to hold removable items. This book is currently being made so only the completed pages are shown.
Sign up for my newsletter below!