Cuddly Rag Quilts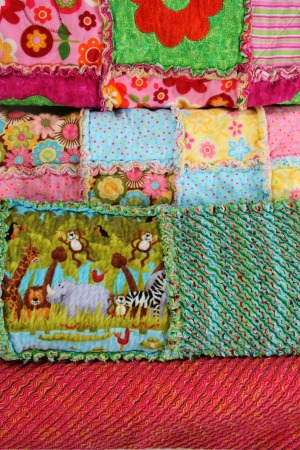 What are Rag Quilts?


Rag quilts are quick and easy to make. I call them quilt in a day projects, as this is literally how long it takes to make one, including the washing and drying of the quilt at the end.
Their edges are described as frayed, raw or rag, hence their name. The best fabrics to use when making one are flannel, denim or homespun cottons. I make mine from flannel (winter pyjama fabric). Not only are these quilts reversible, they are machine washable and able to be dried in the dryer!! The range of flannel fabric available is fabulous, there are plaids, plains, brights, pastels, children's and more.

Do Rag Quilts have to be Flannel?


No they don't. You can make your rag quilt out of any fabric that is 100% cotton. Why? The rag edge on these quilts is only achieved when natural fibers are used. So polyester, nylon... etc fabrics don't create the ragged edge.
Fabrics that you can use include:
flannel
calico
100% cotton fabric
cotton denim
homespun
Do Rag Quilts need Batting?


These types of quilts can be made with or without batting. I make mine usually without traditional batting. Instead I use 3 layers of the same fabric stacked one on top of the other. 
I have used batting in the early days and it worked out fine. It's a personal choice that each quilter makes. Like most decisions in quilt making there is no right or wrong answer - just personal choice.
Flannel can sometimes be a little tricky to work with. I have listed my 7 tips for working with flannel.
This flannel quilt is a very simple quilt made from 75 - 9" x 9" squares. Each block is made by layering three 9" x 9" fabric squares together.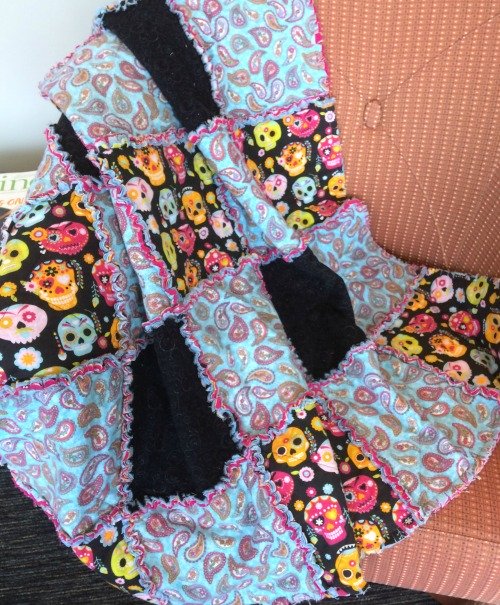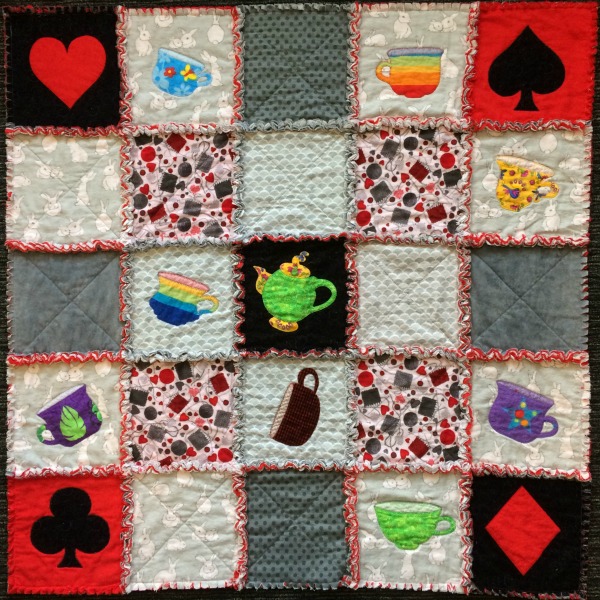 This Alice In Wonderland applique rag quilt I made for my granddaughter's Alice themed bedroom.
The squares are all cut 9" x 9" and are made using 3 layers of flannel. This gives a gorgeous rag edge. 
I like to use a walking foot for my rag quilts so all the seams here are the width of my walking foot - not quite 1/2".
This is a small quilt made from flannel fabric. Most flannel fabrics are 36" (90cm) wide.

I have used 4 different flannel fabrics and a machine washable batting in the middle. It is a very soft and cuddly quilt.

This size is great used as a dolls blanket or as a snuggle blanket for children.
This lap quilt is a larger version of the above quilt also made from flannel fabric.

I have used a 5 x 5 square layout with 12 of those squares being made up of rectangles. You can use any combination of squares and fabric variations.

This size quilt is great as a lap quilt and children find all sorts of uses for this size quilt. Again the beauty of these quilts is that they can be machine washed and dried!!
This chenille quilt is also made from flannel. The technique is created by sewing multiple layers of fabrics together with rows of stitching. Then cutting between each row of stitching but not through the bottom two layers.

You can bind your quilt with a standard quilt binding giving the quilt a more finished look.
My Easy Rag & Chenille Quilts eBook has everything you need to get started, including…
    * Step-by-step instructions

    * Over 70 detailed pictures and diagrams

    * Best fabrics to use

    * The right stitches to use

    * How to create your own unique appliqués to personalize your quilts.

To view a few extra designs visit these.
The first is based on the log cabin quilt style. The next quilt uses the applique technique. This is an ideas page for you to make your own applique quilt using your own designs and fabric shape size. Be inspired when you visit the applique rag quilt. This homespun quilt is made using the square in a square design.
Watch a video of one of these quilts being made.
---
The Amazon ads are my affiliate links. Thank you.
Sign up for my newsletter below!