Quilt In A Day Patterns
Easy Rag and Chenille Quilts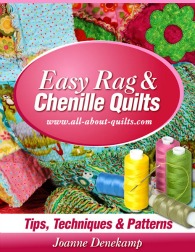 Quilt in a day patterns for you to create a beautiful…
Quilt in a Day!
Whether you're a beginning quilter or just branching out to try something new, let me show you how to make quick, easy, and fun rag and chenille quilts. You'll discover how to make durable, versatile, and gorgeous quilts in less time-step-by-step in plain English with pictures and easy-to-follow instructions!
To go directly to download link for Quilt In A Day eBook
Have you ever seen a beautiful quilt in a shop window and said, "I wish I could make something like that!"

If you have, keep reading, because you're in exactly the right place.
That's exactly what happened to me to jump-start my quilting journey.
I saw a quilt in a shop, fell in love at first sight, and asked them how I could make one just like it. I bought some supplies, and by the end of the day I had made a beautiful quilt. It really was that simple!
The biggest benefit of quilting is knowing that the gift that you've put so much heart into is being loved every day.

Each quilt is a unique creation, totally individual and personal. They are truly special gifts for loved ones!

Many people teach complicated patterns that take days and weeks to complete. You can find some of these resources on my site if that's your thing. And don't get me wrong, those complicated quilts can be fun too.
But I knew that I wanted to create a book especially for those people who wanted to be able to finish a quilt in a day.

Would you believe it if I told you that these quilts are machine washable? That you can toss them in the dryer without ruining them?
It's true! And that's why I love rag quilts so much.

Because they are so long-lasting and sturdy, my quilts have become doll blankets, picnic blankets, and travel everywhere from the grocery store to the beach. That's how I know a quilt has been loved. And you can't do that with just any quilt!
These quilt in a day patterns were meant to hold up with heavy wear and tear. They're versatile, durable, and will go just about anywhere with your loved ones.

For years, I've been making quilts and giving them as gifts.  And I plan to continue quilting for as long as I can. But I've also been asked to share what I know with others. So I've put together some of my favorite quilt patterns and designs so that you can…

Create a beautiful quilt in a day!
In these quilt in a day patterns I've broken them down into step-by-step directions with clear pictures so you'll know exactly what to do. 

Introducing…
"Easy Rag and Chenille Quilts"

This e-book has everything you need to get started, including…

     * Step-by-step instructions on how to make a rag or chenille quilt in a day or a weekend.

     * Over 70 detailed pictures and diagrams detailing the steps, so that you'll have a visual aid for every step in the quilting process.

     * The best fabrics to use so that your quilt will be both beautiful and durable.

     * The right stitches to make so that your quilt won't fall apart in the wash. This is so important to creating a quilt that lasts!

     * An exact list of all the supplies you really need, so that you don't have to waste money on supplies you don't need.

     * How to create your own unique appliqués and personalize your quilts.

You'll find all of that, and a whole lot more, in my e-book, "Easy Rag and Chenille Quilts."

So what are you waiting for? You could be working on your own beautiful rag quilt today.
Click on the book 'Easy Rag & Chenille Quilts' below to download your free copy.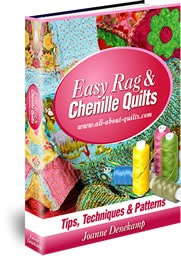 ---
Sign up for my newsletter below!