Creating Fabulous Quilts
Quilting inspiration can be found here.

Are you keen to make yourself or a loved one a quilt? All about quilts is filled with ideas to help you...
Free Patterns
Quilt sizes
Block patterns
Applique 
instructions
Binding and Borders
Block of the Month
Rag quilts...
Whether you are a total beginner or have already made several quilts but now want to make your own original design or try something new, I welcome you here to browse, be inspired and/or create your next quilt project using any of the ideas you find on my site.
Have you seen a felt Christmas tree and wanted to make your own?


These DIY Felt Christmas Trees are constructed from several layers of different materials making them very sturdy & durable. The one above on the left can be made into a tree or placed flat against a fridge as the back of each side has magnets. Patterns come with full sized templates for both the tree and decorations.
Are you wanting to make a non-chocolate Easter Egg?


This gorgeous Felt Easter Egg is the perfect non-chocolate gift to make for that someone special at Easter time. Children of all ages will love decorating their own Easter egg. The base is magnetised so attaches to the fridge.

Are you keen on creating your own themed applique block quilt?


A quilt is made with lots of love and enjoyed all the more by the receiver.

Do you want to mix quilt techniques to create a unique quilt for someone special?


Now's the time to be inspired to create a special quilt. I have so many quilt ideas here for you. From quilt eye candy, rag quilts, minky quilts, applique quilts or designing your own block quilt....

Are you dreaming of creating an entire themed bedroom for a new arrival?



Do You Want To Sew A Rag Quilt?


Get great ideas and how to tips here.

Are you thinking of making a busy book this year?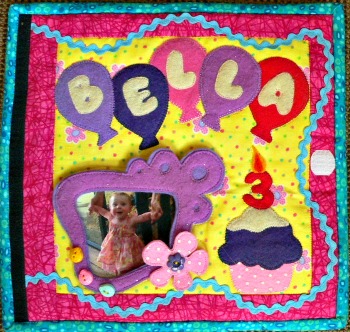 My site is a labour of love and quilting for friends & family is my passion.
Since the birth of my first granddaughter I have enjoyed making quite a few quilts. Most of all I have loved designing them with both my daughter and granddaughter's input. The photo below shows a wee throw quilt made from the scraps of her single bed quilt I made and each applique has special meaning for her. 
I hope you enjoy your visit here and find lots of ideas to help you make your next quilt! Remember that when creating something special that there is never a wrong way to do it - just your way!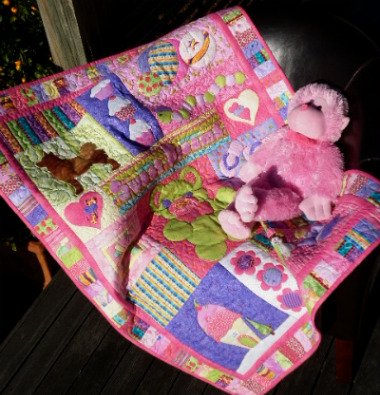 The more sewing you do the more enjoyment you will get. If you love the idea of designing new projects, choosing fabrics and seeing the design take shape then I hope you will find some inspiration here. 
Creating quilts has become my passion!
The Amazon ads are my affiliate links. Thank you.
Sign up for my newsletter below!