Contemporary Quilts
What are contemporary quilts? There has been a lot of discussion in the art quilt world about exactly this. It is generally accepted that these quilts usually are made to hang on the wall as opposed to being on the bed. Frank Zappa, a famous musician commissioned a quilt be made out of the garments that had been thrown on stage during his 1981 tour.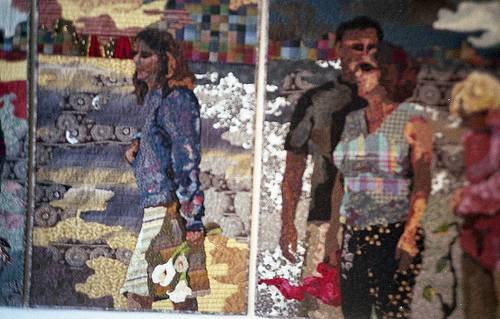 Photo courtesy of Bella 5 to 7
According to Quilt National, a biennial international juried exhibition of contemporary innovative quilts their definition is as follows on their entry form:
'The work must possess the basic structural characteristics of a quilt. It must be predominantly fabric or fabric-like material and must be composed of at least two full and distinct layers, a face layer and a backing layer, that are held together by hand or machine made functional quilting stitches or other elements that pierce all layers and are distributed throughout the surface of the work.'
What a fabulous definition!
Two of my favorite quilt artists are:
If you are looking for information regarding techniques to use when making your modern/arty quilt then visit Quilting Daily. Here you will find lots of resources to help you design and create your quilts. They have a free membership subscription.
Your free membership gives you:
* Access to their blogs, forums, videos, freebies, and more!
* Sharing ideas with the Quilting Daily online community - accessible 24 hours a day, 365 days a year
* The Quilting Daily email newsletter filled with expert tips, techniques, and special offers (including contests and giveaways)

With the birth of Pinterest it has made viewing quilts of all styles more accessible across all countries. Quilters especially benefit from its use. I have come across quilting boards titled 'Contemporary'. On these boards you will find a vast range of quilt styles. True eye candy!

---
Sign up for my newsletter below!