Free Motion Quilting


Has free motion quilting been a mystery to you? Do you want to be able to complete a quilt from start to finish by yourself? Have you tried quilting your own quilts but found the end result less than pleasing? Then this free motion tutorial may just be what you are looking for.
It used to be a total mystery to me so I enrolled in a quilting class and really had no idea what to expect. It was a free motion class and I was totally stumped. I still have the sampler we practiced on and looking at it recently I didn't do too badly. I had an old sewing machine that I loved, even though it only had one speed - super fast! Not the best for learning how to quilt ones quilts.
I decided it was too easy for me to mess up my tops and then it would not only be a waste of money but it would probably put an end to my quilting! This put me off learning how to quilt my own quilts for a few years!
I did however get the name of a fabulous professional quilter and she has quilted all my quilts until late last year (2011) when I decided it was high time I learnt to do this myself. So I took a lesson on quilting and managed to quilt the Christmas Wreath Wall Quilt below.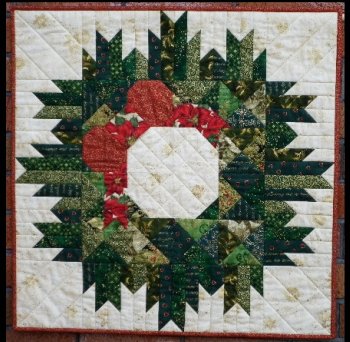 It was all quilted with straight lines and done without a walking foot purely because I didn't have one. I do now! My teacher was keen for me to add a meandering stippling design on it but I'm pleased I didn't. Once home I tried practicing the free motion quilting I'd learnt and found I couldn't! It was more than just a mental block.
Thank goodness I came across Leah Days Free Motion Quilting Project in February this year. It has been fantastic! Leah has a website
The Free Motion Quilting Project dedicated to teaching people how to quilt and it's free.
One of the ways she teaches stippling is to work in rows - it was a light-bulb moment for me and works wonderfully. Since then I have managed to quilt a few small projects on my own!
She posts all her lessons on YouTube as well as writing a very comprehensive lesson that she adds to her website. Each lesson is posted on her site on Wednesday and I really look forward to each one.
Below I have posted each YouTube video and placed a link to her site for the written version. I have also added photos of my completed projects where applicable.
Quilt Along #2 Quilting In Rows
Quilt Along #3 Playing With Scale
Quilt Along #4 Quilting on a Line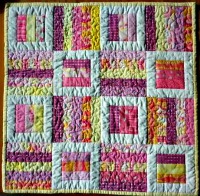 Quilt Along #5 Stippling In Blocks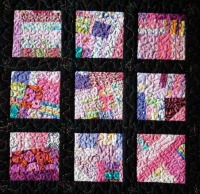 Quilt Along #6 Stippling in Sashing and Borders
Quilt Along #7 Connecting Quilted Pieces
Quilt Along #8 Quilting a Real Quilt
Quilt Along #10 Preparing Wholecloth Quilt
Quilt Along #11 Outline Quilting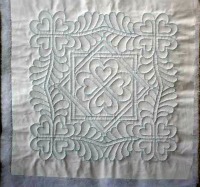 Quilt Along #12 Microstippling
Quilt Along #13 Finishing a Quilt
Quilt Along #14 Stippling Review
Quilt Along #15 Sharp Stippling
Quilt Along #17 - Get Wired with Circuit Board!
Quilt Along #18 - Go Loopy with Loopy Line!

For further tutorials by Leah Day click here to view how to use some of these skills to make a modern quilt.
---
Sign up for my newsletter below!