Quilt Batting Explained


Quilt batting on the market today comes in many different types of fibers. Each one has specific qualities that when chosen well will give your finished quilt the effect you want. Some quilters say the batting you buy is more important than the fabric and design you choose. This is because choosing the wrong type of batting for your quilt can transform your quilt into a disaster.
I have also read that there is no such thing as bad batting but rather poor batting choice by the quilter.
Do All Quilts Need Batting?


The short answer is ... no. There are several styles of quilts that do not require batting. For example:
Rag quilts also known as flannel quilts
Denim quilts often are made without batting due to the weight of a finished denim quilt being heavy enough
Also minky quilts are made without batting. These quilts are made out of strips (usually) of minky fabric.
Which Batting Do I Use for Quilts?


Currently there are six main fibers used to make batting.  Cotton, wool, bamboo, alpaca, silk and polyester. Most of these can also be purchased as blends such as - polyester/cotton, bamboo/cotton or wool/cotton.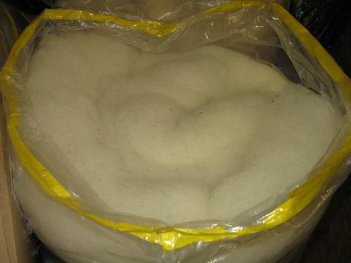 To add to this variation in batting there is one other key factor to be aware of. When battings are manufactured their fibers are bonded together using either a glue-like agent, heat or are punched with lots and lots of needles that mechanically felts the fibers. These latter quilt battings tend to favor machine quilting as their density makes it harder to pass a needle through them.
So if you're going to be hand quilting, you may want to avoid needle-punched batting. And if you want to avoid chemicals in your quilt, avoid bonded batting.

Each of the battings on the market today are excellent for quilts but before purchasing your batting it would be best to ask yourself a few questions to help you choose the right batting for your quilt.
* Do you want a natural, synthetic or blended batting?
* Will your quilt need washing?
* Do you want your quilt to be thick or thin?
* Do you want your quilt to be flat or fluffy?
* How will you be quilting your quilt -hand or machine?
* When will the quilt be used?
* Do you want an antique look to your quilt?
I use natural fibers most of the time with wool being my personal preference. The exceptions being quilts for my granddaughters dolls. I use polyester then, as it is easily washed, quickly dried and inexpensive.
Which Batting for Quilts


My advice is to visit your local quilt shop and see what they have in stock and what they recommend you use for your specific project. Alternatively ask other quilters what they use.

Below is a graph showing general information about each  quilt batting fibre


| | | | | | | |
| --- | --- | --- | --- | --- | --- | --- |
| Types | Washing | Burning | Thickness | Loft | Quilting | Extra |
| Cotton | hand | flamable | thin | low | machine | gives antique look |
| Wool | with care | flame resistant | thin | low | machine & hand | needs moth protection |
| Silk | hand | flamable | thin | low | machine & hand | 5% shrinkage |
| Bamboo | machine | flamable | thin | low | machine | enviro friendly |
| Alpaca | hand | flame resistant | thicker | lofty | machine & hand | light, needs moth protection |
| Polyester | machine wash & dry | very flamable & melts into skin | thicker | lofty | machine & hand | easy to handle |
Most of the batting you can buy today come in a range of thickness and loft type. Historically quilt battings were made by hand. A very time and labor intensive process. There was a very limited choice in batting compared to the choices we have.
Marianne Roberts talks about four different quilt battings available on the market today. She shows them each made into a quilt, which helps to show how they look when in use. See the difference between each one and learn handy tips on which batting work best for you.
---
Sign up for my newsletter below!