Felt Easter Chicken


The perfect non chocolate gift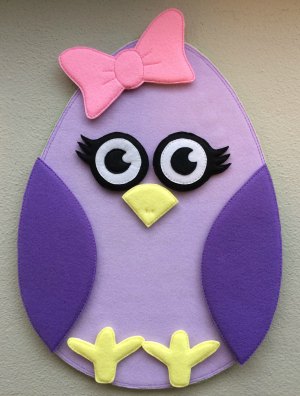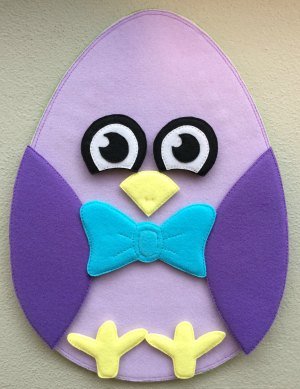 This cute felt Easter chicken is created by making a range of felt accessories to place on the egg using velcro tape sewn onto the back of each piece.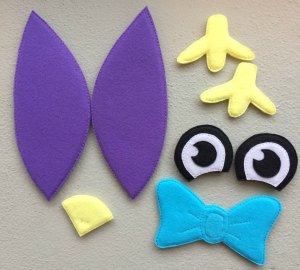 Pattern Now Available!!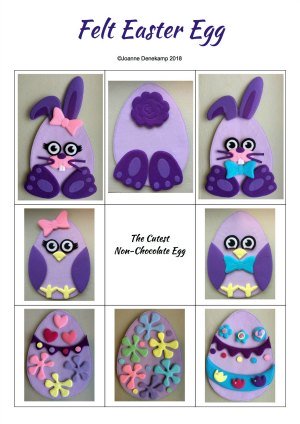 THIS IS A PDF DIGITAL DOWNLOADABLE E-PATTERN.
No physical pattern will be shipped or mailed.

Supplies


To make these chicken accessories you will need:
Felt
Double sided fusible webbing
Firm interfacing
Velcro tape -hook side
Freezer paper

Helpful Tips


If you are new to working with felt then here are a couple of tips that will make this process easier
Machine sewing felt is quick & easy but does require the correct needle size - 90/14 works great sewing polyester felt
Increase your stitch length slightly
Use sharp scissors that cut right to the tip to cut your felt
Sewing velcro on can be tricky - use non adhesive velcro and if your sewing machine is not behaving then change your needle to a 'Jeans' needle
For a more detailed list of tips to help you sew felt visit here.
To see how to make the felt Easter chicken base egg shape that all the pieces go on then visit Felt Easter Eggs.

Felt Easter Chicken Video Tutorial


Wings, Beak, Feet, Eyes & Bow

Each of the chicken pieces is made using the same method and I have outlined it below:
Step 1:
Trace pattern pieces onto freezer paper
Rough cut out
Cutting out felt pieces by pinning the pattern onto the felt gives you misshapen pieces, due to the felts thickness. Using freezer paper overcomes this. You can also use scotch tape to hold your pattern piece onto the felt while cutting it out.

Step 2:
Iron freezer pattern piece onto felt
Cut out 
Iron freezer pattern piece onto firm interfacing and cut out 2mm smaller than the pattern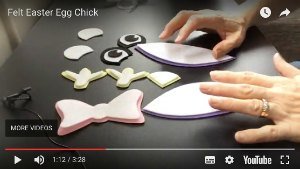 Use a warm iron to do this. Freezer paper can be reused over and over again until it will no longer adhere when ironed.
When cutting felt it is best to use sharp scissors that can cut right to the tip
Using firm interfacing gives these pieces extra strength & durability
The firm interfacing is cut smaller (approximately 2-3mm) than the felt so that it doesn't show around the edges of the completed felt shape

Step 3:
Using fusible webbing secure felt to firm interfacing with a hot iron, using a pressing cloth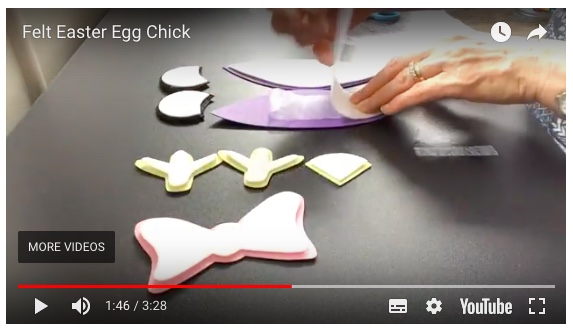 A hot iron is needed to melt the webbing due to the thickness of both the felt & interfacing.

Use what ever type of fusible webbing you have handy eg Steam a Seam
Step 4:
Add velcro to backing felt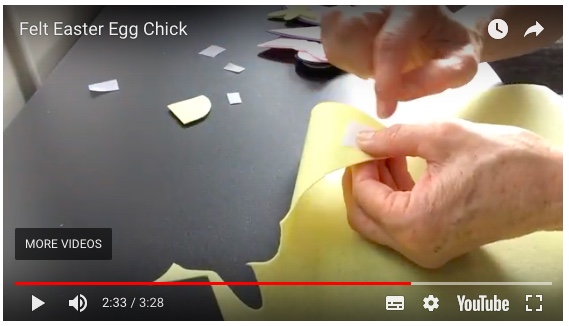 Sewing through all these layers can prove problematic - if this happens then you will need to change your needle to either
To check your velcro position on the backing piece of felt hold it up to a window
When stitching your velcro on use a matching thread to the velcro colour
Step 5:
Use fusible webbing to secure the front felt piece with firm interfacing onto the backing felt
Iron to secure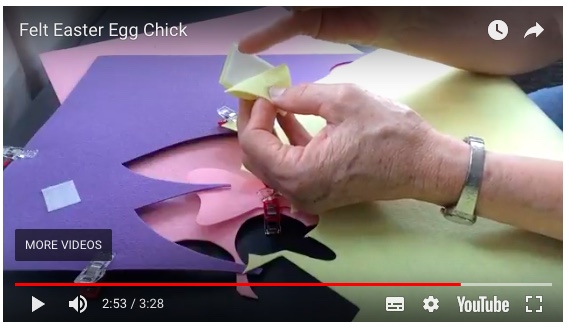 Use a hot iron for this and a pressing sheet

Step 6:
Stitch all layers together around the edge

Trim away excess felt backing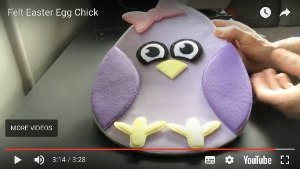 Use a slightly longer stitch than normal here and stitch slowly around the edges about 2-3mm in from the edge
Remember to use sharp scissors that are able to cut right to their tip. This will give you nice clean cuts & corners
Step 7:
If required stitch embellishment lines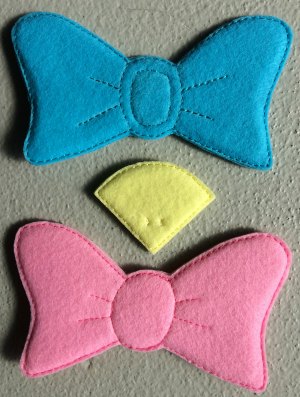 Extra sewing lines are needed on the bow to create the creases and central oval.
Also 2 wee stitches are needed to create the nostrils on the beak.
Use a slightly longer stitch than normal for these stitches.
I hope you have enjoyed my felt Easter chicken creation. Please leave me a comment below and/or post a photo of your Easter chicken.
Please share this page with your friends so they can make one too.
Sign up for my newsletter below!