Felt Easter Eggs
The Perfect Non- Chocolate Gift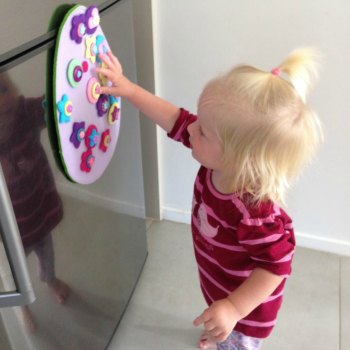 My granddaughter Cassie 16months old finally has the Felt Easter Eggs toy all to herself... she is thoroughly engrossed in decorating her egg by herself!! Definitely the perfect Easter gift!
Making your own felt Easter eggs gift for that someone special is so much fun and will be enjoyed by everyone, especially the very young! It's made using 4 layers of different fabrics/materials that make it sturdy and long lasting!
Playing with this egg fosters the following skills in children -  decision making, eye hand coordination, problem solving, experimenting with design, seriation, self esteem, texture learning and encourages lots of talking with mum & dad (or who is with them at the time) about what they are doing.
This toy is made up of two main components:
 The egg - this is magnetised so it attaches to the fridge
 The felt attachments - each has a wee piece of velcro sewn onto their back
My daughter and I designed this for her 15 month old daughter who is too young to have chocolates. Also I had all the supplies on hand to complete this project quickly.
The egg can be made up into three different characters
 An Easter egg
 An Easter Bunny - back view & front view
 An Easter Chick
My grandchildren have had a lot of fun making up variations of the above as can be seen below... I'm sure that whoever you make yours for will be super creative and surprise you with what they make...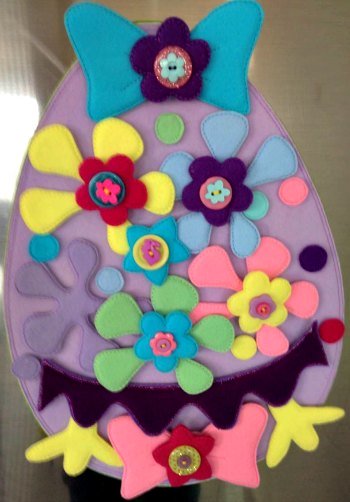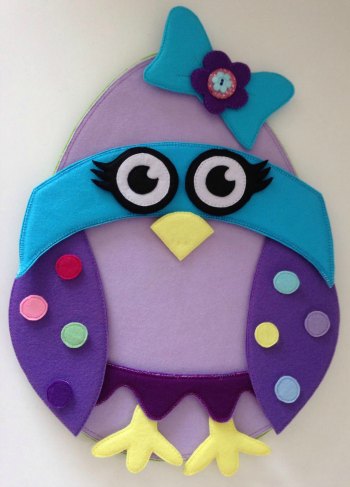 Pattern Now Available!!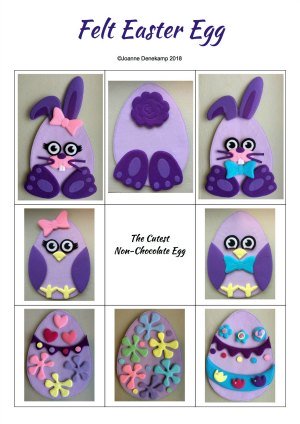 THIS IS A PDF DIGITAL DOWNLOADABLE E-PATTERN.
No physical pattern will be shipped or mailed.

Felt Easter Eggs Supplies


You will need small amounts of the following:
5mm thick felt
Velcro fabric
Fusible woven interfacing
Double sided fusible webbing
Bias binding - 20" (50cm)
Magnetic discs - 16

Making Your Felt Easter Eggs


This egg is made using 4 different materials and then sewing them together around the edge:
5mm thick felt
Double sided fusible webbing
Fusible interfacing
Velcro fabric
We begin making the top layer first.
Trace your pattern onto freezer paper
Iron fusible interfacing onto the wrong side of the velcro fabric
Iron freezer paper pattern onto interfacing side of prepared fabric
Cut out egg shape
Next prepare the 5mm thick felt.
Using tailors chalk make an egg shape 2" smaller than egg pattern on felt
Position magnets as shown in the video
Using 2 layers of double sided fusible webbing fuse velcro fabric egg onto felt
Stitch around the edge
Carefully cut away the surplus felt

Creating the Felt Attachments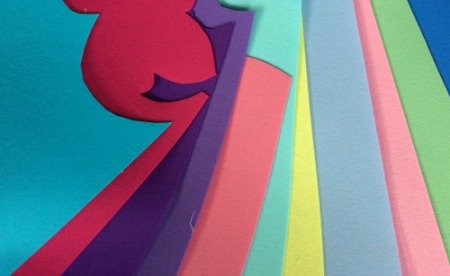 To make the felt attachments you are going to need the following materials:
Hard felt in a variety of colours
Firm interfacing for large pieces
Soft interfacing for small pieces
Freezer paper
Double sided fusible webbing
Velcro tape - hook side only (rough side)
Buttons, beads etc
Click any of the following images to be taken to the page showing how to make each them: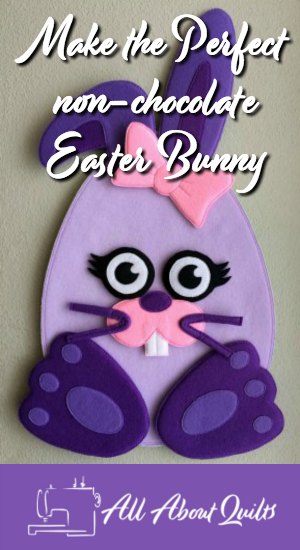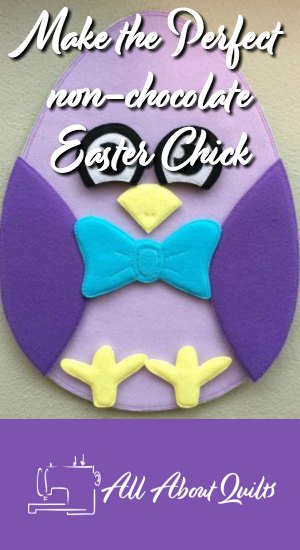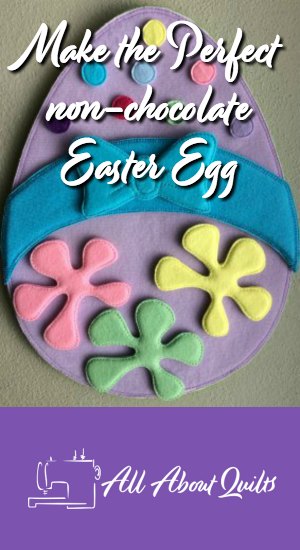 My Amazon ads are my affiliate links. Thank you.
Sign up for my newsletter below!