Beginner Applique Course

How To Sew Successful Applique
I have designed this beginner applique course to help you avoid the pitfalls that I made when I first started and to make your first applique quilt experience a positive one, with a finished product to be proud of.
Doing applique for the first time can be a very frustrating and costly experience. In fact it can be enough to put you off doing applique ever again!
So learn how to stop:
your backing fabric from puckering around your applique
having your applique come away from your quilt
your applique distorting itself on the backing
your applique from moving while you are sewing it on
sewing your stitches off the edges of the applique
All the following information is invaluable when appliqueing and most I didn't know when I started. The results show in my first quilts. Simple things like using the best presser foot on your machine makes sewing curves and turning corners easy!
My first applique quilt attempts were for dolls beds and this was a great size to begin with. Another great project to make for your first attempt is a wee bed cushion. So have a think about what you will turn your applique master piece into now so that you select an appropriate sized backing fabric to put your applique on. 
Below is a wee throw quilt that is made up of individual blocks with most having a wee applique on them. This is another great project idea to make to start your applique journey with.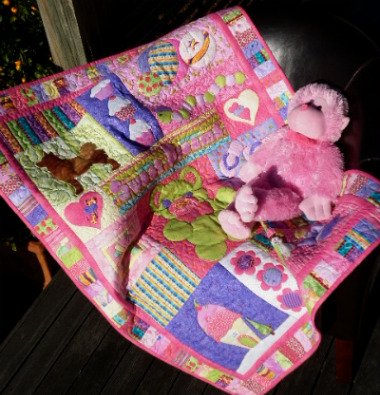 If you are having difficulty finding cute and applique friendly designs or patterns try the following suggestions:
Colouring-in books - there are also great online sites for these so have fun looking through them
Children's story books
Google Images - type into google some of the following words to get a better sample of images sketches, drawings, silhouettes so that would become cat drawings, cat sketches, cat silhouettes
http://www.fatcatpatterns.com - this is a fantastic site with lots of applique ideas and also some free applique patterns for you to use for your personal use only.
The Applique Course covers the following topics.
Pre-washing Fabric
Stabilizing your backing fabric
Using Steam-a-seam
Applique Stitches
Open Toed Foot
Lets get started! Go to pre-washing fabric to begin your applique project.

Have Fun!
My Amazon ads are my affiliate links. Thank you.
Sign up for my newsletter below!