Sunbonnet Sue
Free Patterns
Sunbonnet Sue and Sam are one of the most recognized quilting block patterns. They have been used by quilters for more than a century and I'm sure they're here to stay for many more years.
The design of a playful girl with a big bonnet can be traced back to two illustrators who worked in the late 1800s and early 20th century.
The first is Kate Greenaway (1846 - 1901)a British book editor who drew pictures of children in bonnets. The other is Bertha Corbett Melcher who is credited as a creator of the bonnet designs. It was in her book published in 1900 "The Sunbonnet Babies" that she'd illustrated with girls with their faces hidden by their bonnets.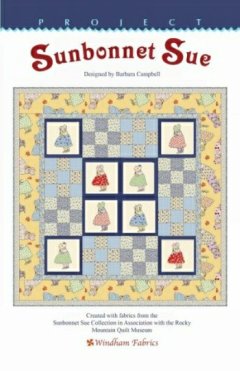 The blocks on this page are all appliqué. To make the best appliqué remember the following tips:
* Stabilize your backing fabric - I use Spray Starch
* Use an iron on adhesive like Steam-A-Seam
* Test your appliqué stitch before you begin. If you are having tension problems then using a finer thread on your bobbin will help.
* Change your sewing machine needle. Dull needles aren't appliqué friendly.
Below are are couple of Sue and Sam quilts I have put together from the blocks above. You will notice that some of the blocks have had their direction changed.
I have not included instructions for making any of these quilts. My quilt pictures are for inspiration on how to use the blocks above. Have fun making your own quilts!
I have designed these blocks and quilts using Electric Quilt 7 (EQ7), a quilting program that I highly recommend.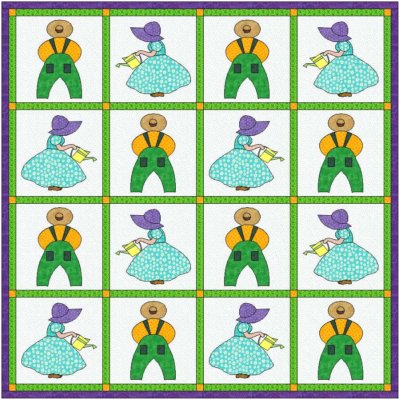 Today you'll find that Sue and her friends can be found on quilts, clothing, artwork and more.
Sign up for my newsletter below!