Stunning Applique Stitches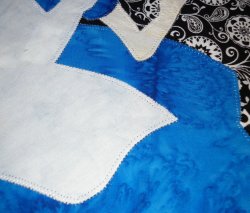 When selecting the most stunning applique stitches to use, you need to consider several things.
Firstly what your machine is capable of doing well. 
Secondly, what effect are you wanting to achieve. 
Thirdly, what fabric you are using. I find 100% cotton fabrics fray easily, whereas batik fabrics fray a lot less. 
Fourthly, how are you going to apply your applique fabric design to your backing. 
And lastly what time do you have to complete the project.
What ever choice you make remember to practice first on a scrap of fabric. This is especially important with regard to thread tension. An adjustment to the top thread tension may be needed for some machines. Loosening the top tension will allow stitches to interlock on the wrong side of the fabric. Read the sewing machine manual (if you can find it)to determine the exact machine settings required for appliqué work.
Next time you are at a quilt class, quilt show or quilting shop, make a point of looking closely at what other people have used on their quilts and the effect this has added to the quilt.
Stitch Type


There are several applique stitches used more commonly than others. These are:
Blanket Stitch
Satin Stitch
Fancy Stitch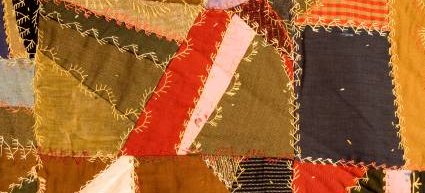 What you choose to use is entirely up to you and your machine.

Stitch Size


When you are selecting your stitch size you need to practice it on a scrap of fabric first. The theory is the smaller the design the smaller the stitch used. But if you always like to use the same size stitch on all your projects then do that. Some of the older sewing machines only have straight stitch and zigzag stitch options with a limited stitch size adjustment and that also is fine.

Thread Type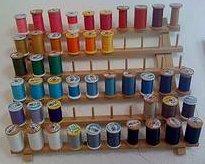 Photo courtesy of Gina Pina
Another choice you need to consider is your thread choice. Until recently I had always changed my threads to match the fabric I was sewing. This I feel adds depth to the design. I would recommend using a special thread for this that you can purchase in most sewing stores. Remember to always use a thinner thread in your bobbin.
The next choice you have, is to use invisible thread as your top thread. The benefit of doing this is that you don't need to be constantly re-threading your sewing machine.
The other choice you have, is to use black thread as your top thread. You would choose to do this if you were wanting a bold, contrasting effect. Again the benefit of doing this is that you don't need to be constantly re-threading your sewing machine.This is not my preferred choice as I love to match my colors. I'm currently making a Dr Seuss applique quilt where I am using black as my applique thread as this replicates the drawings in the books.
When choosing thread type you also need to select cotton, polyester or another type of thread on the market. I almost always choose polyester as it is stronger and less prone to weakening over time especially if your applique stitches are going to be exposed to direct sunlight.

Great! With your stitch style chosen you have just one lesson to complete. When sewing your applique design on it is imperative to be able to see where your machine needle is going, especially when sewing around corners! Using an open toed foot makes this easy to do.
My Amazon ads are my affiliate links. Thank you.
Sign up for my newsletter below!