Fabulous Quilt Applique
Quilt applique is the technique of layering one fabric over another to create a design, then stitching the design onto a larger background as part of your quilt. This can be done by hand or by machine. You can also make your designs as simple or as complex as you want.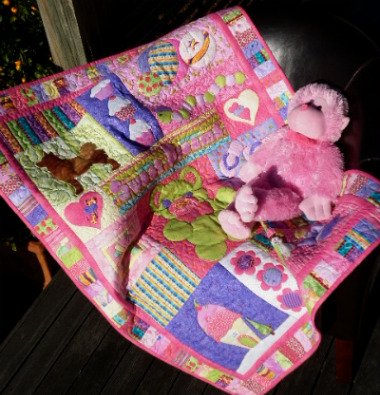 The beauty of applique is that there is no right or wrong applique method, just personal choice. There are certain applique tips and techniques that make your project easier and give you a more professional end product.
If you want to learn how to machine applique the easy way start with my free Beginner Applique Course . You'll learn how to stabilize your backing fabric, apply steam a seam, use an open toed foot and much more!

Over the years I have learned valuable applique tips and techniques that have helped me improve my applique technique. One of the latest ones was discovering clip on magnifying glasses! These are fantastic! When doing applique you need to see exactly where you are stitching and sometimes your glasses just aren't good enough.
My Amazon ads are my affiliate links. Thank you.
Sign up for my newsletter below!