Open Toed Foot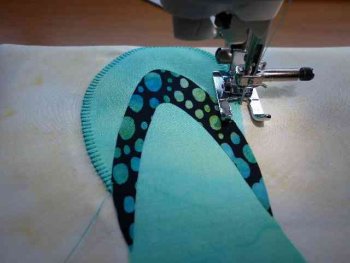 Well done! Only the open toed foot lesson to go. You can soon have fun completing your appliqué project.
When I finished my early appliqué projects I hoped no one would look at my stitching too closely especially my corners. They were so messy! But this all changed when I discovered this fabulous foot. What a difference this has made.
Most sewing machines these days come with a fabulous selection of presser feet. So check out what you currently have and you might be pleasantly surprised.
If your sewing machine didn't come with one then I strongly advise you to purchase one a.s.a.p. You will save yourself a lot of anquish, tears and unpicking!

As you can see in the photo above the presser foot allows clear visibility during stitching and this is great when using satin and any of the other decorative stitches on your machine. The sewing area is much wider than the standard presser foot, there is no bar across the front of the foot so you just get much  greater visibility.
This foot is good for satin stitch appliqué or decorative stitching. Most companies make the foot either generally metallic or of plastic.
Next time you are at a quilt exhibition take a closer look at the quilts with appliqué. Notice how the quilter has managed the sharp and narrow corners. Sometimes they will have gradually reduced the stitch size as they approach the corner and at other times they will have stitched some of the stitches on an angle near the corner. Whichever has been used good visibility is essential to achieving a pleasing result. Either method requires practise but it is surprising how quickly these techniques can be achieved!
Now it's time to do a bit of practising with your open toed presser foot on. You will find that it suddenly becomes so much easier to achieve professional results using any decorative stitch. You will also notice how much easier it is to play with the size if each decorative stitch so that you can make the best possible decision for your project. Of course make sure you have starched your fabric so that it is sitting as flat as possible when using this foot.
Well done! You are now ready to begin your own appliqué project. For a brief summary you can refer to applique tips and techniques.
My Amazon ads are my affiliate links. Thank you.
Sign up for my newsletter below!