Steam-A-Seam

How To Use A Fusible Web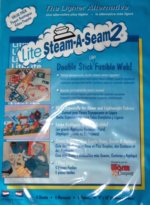 Steam-a-seam is one of a range of fusible webs on the market today. It can be bought either in packet form as per photo above or by the yard. Both ways of steam-a-seam come with instructions. If there are no instructions then you have probably been sold a different brand of fusible web.
The beauty of this brand is its ability to keep your pieces in place while you are positioning all your pieces for your appliqué. There is nothing more frustrating than having a breeze from an open window blow all your pieces off your background!
Periodically I find myself having to try a different brand (usually because the shop I'm at is out of stock and I'm a bit impatient) but I seem to always come back to this one every time.
The time to use a fusible web is when drafting or tracing your pattern. It consists of three layers:
paper
double sided sticky web
paper
One of the paper layers has been designed to peel off more easily so ensure that you trace over your design onto the paper that stays with the web. If you are using the original steam-a-seam product then the web is only sticky on one side, so remember to check that you have the glue-side (sticky) uppermost. It is best to always use a hard, flat surface when using fusible web. When you begin to trace over your pattern you will have all three layers of the fusible web together.
Here is how I use my fusible web for appliqué:
Trace appliqué design onto paper liner (using a sharp pencil) then remove the second paper liner.
Stick to the wrong side of your fabric
Cut both web and fabric together along cutting lines
Peel off the remaining paper liner and arrange appliqué pieces onto your backing
Press for 10-20 seconds using a steam setting on your iron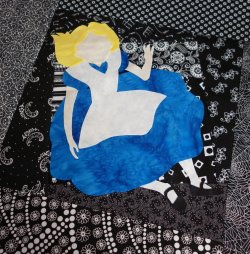 Congratulations you are now ready to assemble your appliqué! To help you select the best applique stitches move onto the next lesson.
Fusible Web Tips


I find it most economical to trace pattern pieces using the same fabric together.
On larger pattern pieces you can iron the steam a seam only on the edge of the fabric so that you can cut away the center to be used on smaller pieces. This technique also helps to soften the whole quilt.
Remember to reverse your pattern before you begin if orientation of the appliqué piece is important. You can do this using a window (during the day), light box or photocopier
My Amazon ads are my affiliate links. Thank you.
Sign up for my newsletter below!