Silk Batting
Silk batting is a natural fiber made from the silkworm cocoon. It is one of the newer batting to come on the market. Batting made from silk is very light, fluffy and drapes like no other batting.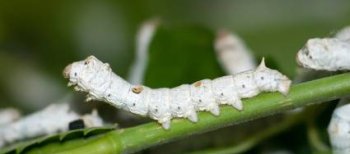 It is often blended with polyester as this helps manufacturing stability. The ratio of the blend is usually 90% silk and 10% polyester.
When looking at buying silk wadding check how the fibers have been bonded in manufacture. Often those that are needle-punched can have problems with bearding. This is where the fibers migrate through the fabric. The other type of bonding used is resin-bonding which helps prevent bearding.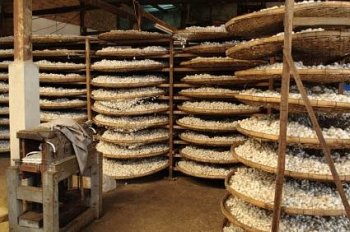 When made into batting silk has many advantages for the quilter:
* Maintains its loft
* Light as a feather
* Long lasting natural fiber
* Warm in winter, cool in summer
* Light but strong
* Fabulous draping qualities
* It is washable
* Good for hand and machine quilting
* Does not shift, once attached to other fabrics
* Breathable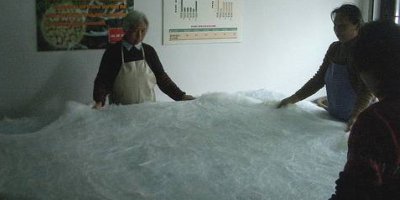 Photo courtesy of Augapfel
Silk Quilt Washing Instructions
Washes similar to cotton in that there is a shrinkage of approximately 5%. This is minimized with washing in cold water and being laid flat when drying.
For best results use a mild detergent and cold water to wash & rinse in. Use a gentle cycle with minimal agitation.
Always dry flat. As silk absorbs water very well it would pay to blot it dry on towels to remove as much excess water as possible. Some people like to use a fan to help speed up the drying process and this does work well. They recommend an oscillating fan.
When the quilt is barely damp, you can fluff it in the dryer on AIR ONLY. No heat and remember to remove it promptly.
Tips
1. Is wonderful for quilts as well as garments
2. Supply is currently in specialty stores or online, not yet available in chain stores.
3. Not all batting made from silk need to be handled with gloves or encased in cheesecloth.
4. Silk batting is lighter than down and just as warm, supple and fluffy.
5. Recommended quilting distance: up to 3 1/2".
Return From Silk Batting Back To Quilt Batting

Return Back To Quilts Home Page
Sign up for my newsletter below!