Minky Quilt
Made in 2011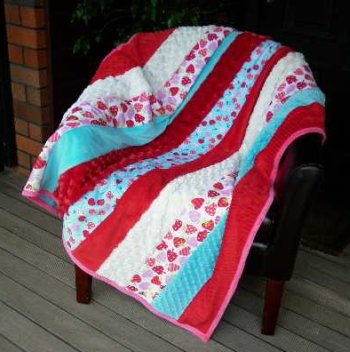 Minky quilts were first brought to my attention about a year ago on my first visit to Donna's Quilt Studio. I found myself going back several times to the rack of finished cuddle strip quilts - I just couldn't keep my hands off them. My quilting group were on a day trip visiting a large quilt exhibition and two quilt studios. Donna's was one of them. I'd already bought enough fabric etc at the exhibition so resisted the temptation to buy more.
About 8 months later several women in my quilting group showed up with their finished minky quilt or cuddle strip quilt! I was so jealous and again couldn't resist the urge to handle them. My daughter and I browsed online and decided on the colorways we liked the best. Then off I went (an hours drive from home!) and browsed the many quilts and quilt kits at Donna's Studio.
I found just the one I was looking for - bought it and now my grand daughter has yet another quilt. She sleeps with it on her bed every night, watches TV with it and basicly loves it to bits.
The kit came with all the fabrics precut. It was so easy to assemble. There is no batting in this quilt (you can add this if you want to) and this will make it so easy to care for as well as all the fabric being polyester.
There are a few tips to remember when you make a quilt from this fabric. You make the quilt using a walking foot, seam allowances are 1/2" and it is best to lengthen your stitch length to 3. Also this fabric has a nap so make sure you have this all facing the same way.
The quilt is made using the sew and flip technique. You begin with the centre strip placed centrally on the backing fabric (wrong sides together) with the selvages lined up. You will find that you need to pin about every 2". Sew strip on then flip it over and repeat with the next and remaining strips. You are quilting as you go! The binding was sewn on and finished using a zigzag stitch.
Sign up for my newsletter below!