Granddaughters Pink Quilt

Made in 2009
My granddaughters pink quilt was a design inspired from a quilt I saw at an exhibition. My version of this quilt though looks nothing like the quilt I saw, the similarity is in the non-bordered block formation and the use of her word placement ideas.
I had never seen a quilt like this (I'd only been quilting a couple of years) and I loved it. My fingers and mind were way ahead of me on this one.
My daughter and I thought up all of the things that her daughter (my granddaughter) loved. All these we put into the quilt. Even her dog Pablo made an appearance - he is a Finnish Spitz.
Below is the quilt that inspired me so much (photo taken on my phone!).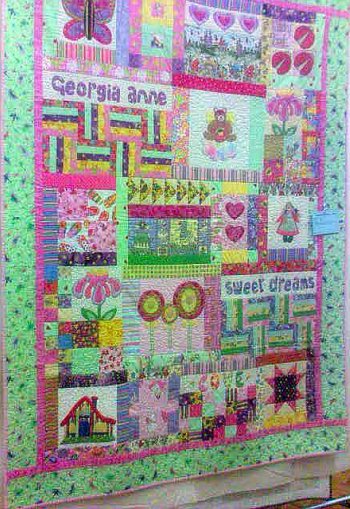 This quilt was made on my Elna Supermatic sewing machine that was more than 35 years old. It did have a blind hem stitch that I used on this quilt. Unfortunately this stitch wasn't very versatile in its ability to adjust the width and length but I'm still very proud of the result. Again I had limited knowledge about applique as this quilt was made before I had done a class on applique. It's amazing the results one can achieve with limited knowledge but with tons of inspiration. I used a generic brand of fusible web which I will never use again purely because I eventually came across Steam a Seam and find this is so much better.
If you are wanting to make a similar quilt for a loved one then I have added the measurements of each row and block group within this quilt. There is no need to be too precise when making your blocks - I wasn't. We trimmed blocks to size at the end so it would pay you to make the blocks a bit larger than required where possible. Of course I did end up with too many blocks (some were the wrong size for the original quilt) hence the wee lap quilt was made shown at the end of this post. Again I have added a free quilt pattern template of that quilt.
Below I've added the two layouts of the quilt showing:
each rows dimensions on the left
the size of each individual block/block group on the right
The patterns for each design came from a wide variety of sources. Colouring books, children's books, google, photos, EQ7 computing software (I think the butterfly outline may have come from here?) and of course from my daughter free-hand drawing some of them. The quilting is stunning and I can't take any credit for this as it was done by my friend Jeannie Balemi.

The photo above shows the back of the quilt. Once the top was made it was a little bigger than expected and my backing fabric was too narrow. So hence all the teddy bears down the right hand side of the back! Thank goodness for scraps of fabric. The photo below shows my granddaughters pink quilt in her bedroom - so beautiful!
My grand daughter loved it so much she dragged it around the house. Not the best for the quilt. So as I had a few scraps left over I made a throw sized quilt for her. I duplicated a few of the designs from the large quilt and also made a few new ones. Fortunately she loved the wee quilt and agreed to keep the big quilt on her bed! Both these quilts have been machine washed then line dried and they both still look fantastic.
Enjoy!
Sign up for my newsletter below!