Jar Blocks
Free Patterns
Tall jar blocks, short jars and every size in-between! These quilts come and go in popularity. When I saw my first jar quilt I was fascinated. It was a food theme and each jar was made from bright vegetables or fruit fabric, on a black background.
The jars were in several sizes and appeared to be sitting on wooden shelves. It looked stunning. I overheard some women talking about jar quilts and they were discussing other themes:
* Halloween
* Sweets
* Bugs
* Animals
*Christmas...
What a great quilt to give to a teenager! Imagine the fabric fun you could have with the jar contents! When you make these blocks have fun going through your stash or choosing new fabric.
Due to the curves and angles on these jars it will sometimes be easier to appliqué the block onto a black background or similar. Use the appliqué pattern for this.
To download these patterns you will need to have Adobe Reader on your computer. It is a free software program and can be downloaded here.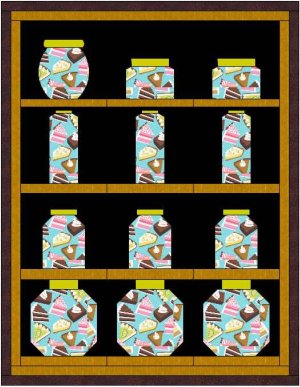 The jar quilt above comes with no instructions as I have made it to show you what you can do with the blocks. It is inspiration only. You will notice that I made the bottom piece of each block in brown to resemble shelving.
Appliqué Sewing Tips
If you've tried appliqué before and have not been happy with your results try these few tips and see the difference.
* Stabilize your backing fabric - I use Spray Starch
* Use an iron on adhesive like Steam-A-Seam
* Test your appliqué stitch before you begin. If you are having tension problems then using a finer thread on your bobbin will help.
Sign up for my newsletter below!