Log Cabin Rag Quilt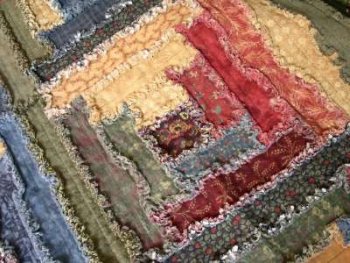 As you can tell I love rag quilts. This log cabin rag quilt combines a traditional quilting method with a newer technique.
In fact you can use almost any block pattern combined with the rag technique to make a rag quilt. Just use your imagination. You will find many free block patterns in my site. The results will be outstanding!
Use your fabric of choice and if you have a favorite log cabin template then use that or you can use the template below.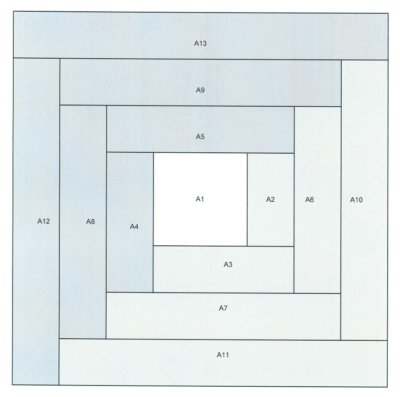 If this is your first time trying a log cabin rag quilt then you may like to go to my log cabin instruction page and familiarize yourself with the process. You will also find complete instructions for making a log cabin quilt. Remember to add a 1" seam allowance around each pattern piece and to also have all seam allowances showing on the same side.

Simplified Instructions
Step 1: Cut a flannel square and rectangles for the top of your quilt, backing and a third set for the middle from either flannel or thin batting.
Step 2: Combine the three layers of fabrics together in a sandwich by placing one backing square (wrong side up), position a batting square centrally and another top square (right side up) on top. Stitch through all layers to secure.
Step 3: Beginning with the central square, sew on each log cabin rectangle in a circular rotation using a 1" seam allowance. Repeat till all pieces have been added.
Step 4: Repeat steps 1 to 3 to make the number of squares required. Join all the squares together, first in rows and then sew the rows together.
Step 5: Sew a 1" triple seam around the entire quilt.
Step 6: Clip each raw edge at 1/2" (1 1/2cm) intervals and up to an 1/8" from the seam.
Step 7: Machine wash your quilt and then dry your quilt in the dryer using a hot setting.
---
Sign up for my newsletter below!