Seeing Stars Block

Block of the Month 7½" x 7½" (unfinished)
The Seeing Stars Block is an original design of Macia Hohn of The Quilters Cache. What I really like about this block is that when combining multiple blocks together you get a lovely secondary design showing - another star!

Clicking through to The Quilters Cache you will be given Marcia's detailed instructions to make this block as well as seeing the blocks and quilts that others have made using her pattern.
I have recreated her pattern in EQ7, as I always like to do. In time I am keen to set myself a challenge making my version of a sampler quilt not too dissimilar to Dear Jane. I will use blocks I have stored on EQ7 over time as this will ensure all the patterns are printed exactly the same size. Who knows when this will happen but someday I hope.
My initial inspiration for creating a personalised sampler came from a New Zealand quilter who made a block a day for a year and then sewed them together into a massive wall quilt that can be seen here. I have no desire to make such a large quilt but I loved the fabric she chose to make her blocks in - silk!!!

Click on the images below to download a PDF for this BOM.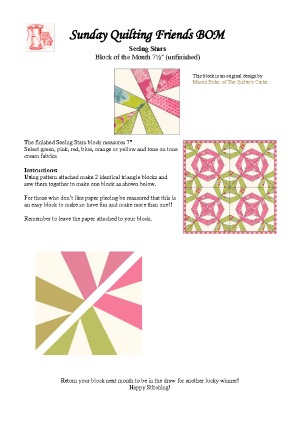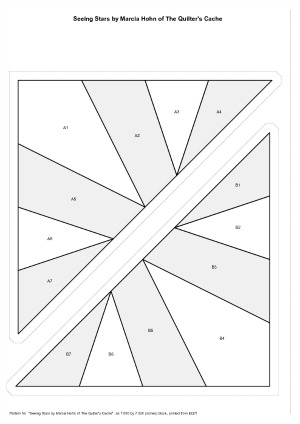 As usual feel free to use this block pattern but please remember that it is an original design by Marci Hohn and give her the acknowledgement she deserves.

My advice when making this quilt block:
Shorten your stitch length to 1.5 or as close to this as your sewing machine will accommodate. This perforates the paper more and thus allows for easier paper removal at the end.


Ensure to cut your fabric pieces at least 1" larger than you require.

Trim seam allowances to 1/4" after sewing each seam.

Remember to keep the paper pattern on the block until you have sewn all the blocks together.

Check out Craftsy for a fabulous beginners class on paper piecing by Carol Doak called 'Mastering Foundation Paper Piecing'

Below I have added a great wee video by Connecting Threads demonstrating how to do paper piecing. I used this same video when I started this method of creating blocks. Later I took the Craftsy class with Carol Doak which I also loved and I still enjoy having endless access to it 24hrs a day!!!

Sign up for my newsletter below!