Year 60 Quilt
Viewing this Year 60 Quilt was truly an inspirational moment for me. I found myself enjoying this quilt tremendously. The detail and execution were a delight to view. The idea that someone could make a quilted 6" square block every day for a year was fascinating. One of the guild members told us that Norma had stayed up till 2am some nights to complete that days block! She said that if she missed one day then the project would not be completed.
I have until now only seen one quilt that was constructed using Norma's method - quilt as you go - and it didn't really inspire me to try that method. Now after seeing this quilt I feel quite different. My mind has been churning over and over with ideas for creating something similar. I have several ideas brewing but none are right yet. I love this process!
Norma Slabbert who is the artist of this quilt is a well known South African quilter. She has published quite a few quilting books, is known for her quilting accomplishments and has been a judge for several quilting exhibitions.
Following is the explanation regarding this fascinating quilt:
Year 60 Quilt is about the everyday and the daily practice of quilting.
The diary quilt chronicles Norma Slabbert's 60th year. She started the quilt on her 60th birthday and completed one quilted block every day for a year - without fail. It took another 6 months to join the 365 blocks and finish the eleven-meter quilt which is roughly arranged by month.
The Quilt features scenes from Norma's daily life; her home and garden, a state of mind, the things she cares about, and the things she can count on. The narrative blocks reflect the moments of surprise and perfection in daily life - when the ordinary becomes extraordinary.
The grid style, compositional isolation, and formal containment within the square give the ordinary images meaning - making them objects for contemplation rather than a realistic entry point.
This quilt is personal and reflective and the images give voice to memories and experience. And while it pictures the present, it will perhaps, one day, renew memories and leave a trace of an existence.
Following are a few more close up views of this fabulous quilt!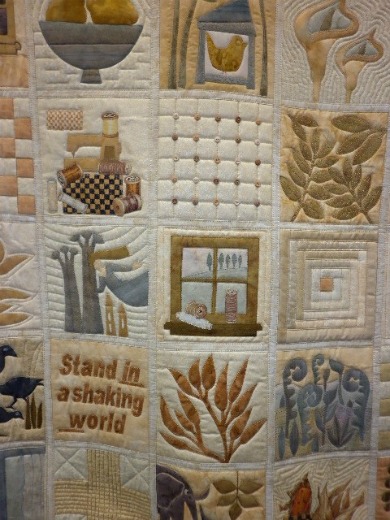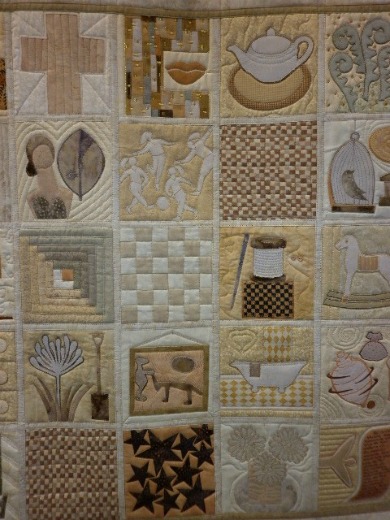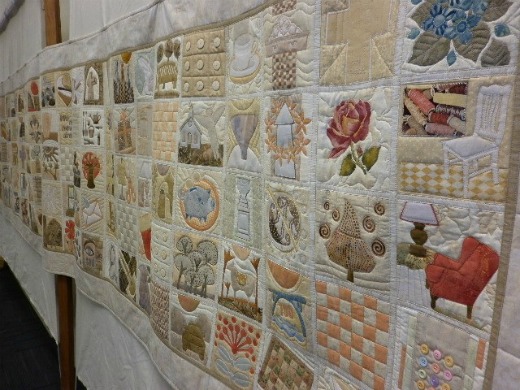 Sign up for my newsletter below!