Rag Log Cabin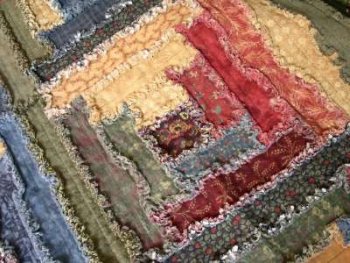 It's always exciting to discover two different techniques combined to create a new quilt. Though both rag quilts and log cabin quilts are not new they do complement each other well as can be seen in the rag log cabin quilt above.
To make this quilt you use flannel fabrics and the rag quilt technique where all the raw edges are exposed on the right side. You will need to allow a 1" seam allowance (not the usual 1/4")when cutting out your strips of fabric for the log cabin.
Another consideration is fabric choice. The flannel fabric range is not as extensive as regular quilting fabrics, so when considering your blend of light to dark fabrics you may need to be creative or be prepared to change your color choice.


Visit my small rag quilt page for instructions on how to make a rag quilt remembering to cut your fabrics in a log cabin design.
Log cabin blocks can be made with as little as three rows (9 pieces of fabric) or as many as nine (37 pieces of fabric). As the fabric used for these log cabins is often flannel it is best to keep to the simpler or smaller blocks or the log cabin could become lost in the rag quilt effect. The photo above shows a log cabin block with 13 pieces of fabric and this works very well. Remember that the more pieces of fabric you choose to have in your block then the heavier your quilt be. Also the harder it will be to wash and dry!
Sign up for my newsletter below!