My Felt Christmas Tree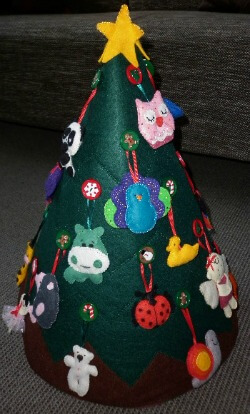 My felt Christmas Tree came about because I saw Martina's one on a Pinterest board. She had made one for her daughter and had posted a photo of her daughter playing with it. So cute!! 
I've now made several felt trees and have created a list of essential tips when making a felt Christmas tree, to help you make your own.
UPDATE March 2018
The 3D felt Christmas tree is now complete and I am currently working on the felt decorations to go on the tree.
I have taken videos of the process and these are can be found at the link above.
Pattern should be available by the end of the month - all going well.
Below is a short video showing the tree and how it works.
UPDATE October 2017
My daughter and I are in design mode creating an alternate 3D Christmas tree. This will take time and should be ready some time 2018.
My granddaughter is now 4 and loves playing with her Christmas tree throughout the year. So it's still a favourite and she doesn't want her wee sister playing with it! So that's why we're making another one.
If you would like to know when this is completed and added to my site, then subscribe to my newsletter. I plan to send out a newsletter about once a month mainly to update you on additions to my site, tips & techniques, freebies etc.
Here's a wee update showing my grand daughter playing with her tree a year later. She is now 16months old and loving the tree especially when her big sister plays as well. Sorry about the image quality.

Below are 2 more photos showing Bella (now 17months) decorating her tree! This is the tree and its ornaments second Christmas outing and it has held up very well.

Her tree lies flat when not in use - making it so easy to store in a cupboard!

I emailed her for a copy of her pattern and she sent it through - including instructions!
Martina has very kindly given her permission for me to pass on her Christmas Tree pattern. Below are the downloads for her pattern.
Martina's Tree pattern
I came across these fantastic scissors for cutting felt as mine were no longer ideal. You can find my review on Amazon! I highly recommend them for cutting felt over and over again.
While browsing Pinterest I had been collecting a range of fabulous felt images that I thought I might like to use when making the decorations for my tree. Most did not come with patterns. But this was not a bother most of the time. They are simple ornaments to make and I found it very easy to create my own patterns.
Following is a brief description of how I created my own pattern for my peacock, I hope it helps!



Select peacock image

Print out peacock

Re-size peacock on photocopier

Hold peacock up against a window
Place a second piece of paper over the peacock
Trace around peacocks body

Hold peacock up against a window
Place another piece of paper over the peacock
Trace around the feathers

My Felt Christmas Tree Photos
Below are four photos of my felt Christmas tree showing a different side & ornaments in each photo.

Several of my ornaments have either a bell or cellophane in them. As well I have added about 3 bought ornaments that I found while shopping. I did this to add an additional textural experience for my granddaughter.

This tree lies flat for easy storage when not in use. I will be giving this to my daughter soon and will hopefully have found a cute Christmas container to store the ornaments in separately for her.
Below is a wee video clip I found that demonstrates the blanket stitch I used to make these felt ornaments.

I tried using predominantly wool felt when making my ornaments but occasionally I strayed from this as I also wanted felt that had spots, hearts, stars etc on it. As this is going to be used by my baby granddaughter this Christmas I omitted buttons, beads & sequins when decorating them.
Here are a couple of places that stock felt:
Very Berry Handmade has posted a range of great felt suppliers

Colonial Crafts for wool felt
I Love Felt88 for patterned felt
The website I purchased my thick felt from to make the green tree was gracefulhandscraft.com

My Amazon ads are my affiliate links. Thank you.
Return From My Felt Christmas Tree Back To Quilt Pictures

Back To Quilts Home Page
Sign up for my newsletter below!