Machine Applique Tutorials
The machine applique tutorials is my preferred method of doing appliqué.
For this tutorial I will use the jandal block below.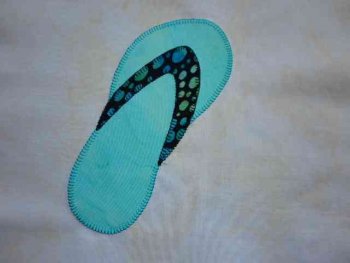 You will need the following extras:
Spray Starch: I use this to stabilise my backing fabric. Spray between 2 or 3 light coats onto your backing fabric and iron dry between each coat. The end result should have your backing fabric feeling like very fine card. This steps stops the gathering look when you sew!! By the time your block is finished and used in a quilt most of the spray starch will have gone! You can also make your own spray starch and you will find several homemade starch recipe alternatives here.
Steam a Seam: or similar. This is an iron on adhesive web. It allows your applique to stay in place while you sew.
Top stitching thread: A like to use a thread that has a slight sheen to it and I like to match my thread to my fabrics.
Step One: Stabilize your backing fabric with 'Spray Starch'. Spray a light application of spray starch onto backing fabric then iron dry. Repeat until backing fabric resembles very fine cardboard. Usually 2 to 3 applications. I have found it best to cover your ironing board with an old towel first.
| | |
| --- | --- |
| Step Two: Place your appliqué pattern on a flat surface. Cover with the Steam-a-Seam and trace around the outline. | |
| | |
| --- | --- |
| Step Three: Using paper scissors rough cut around traced pattern. | |
| | |
| --- | --- |
| Step Four: Peel off the paper from one side of the Steam-a-Seam and place on the wrong-side of the appliqué fabric. Iron in place. | |
| | |
| --- | --- |
| Step Five: Cut out along the appliqué drawn lines. | |
| | |
| --- | --- |
| Step Six: Peel off paper and place cut appliqué onto background fabric. Iron in place. | |
Step Seven: Sew around the edges using an open toed foot (this gives good visibilty for your stitch placement). There are several applique stitches you can use. My preferred is blanket stitch. Play around with your stitch width and length until you find what you like.

For appliqué designs that are made up out of several different pattern pieces you assemble the entire appliqué design first and then you stitch around the design.
I have provided the jandal templates below but I can't remember where I got it from. It is not one of mine but it is a great design! For more BOM applique designs (where you will find this one used) click here.

Sign up for my newsletter below!