Joannes Designs Week52


Flight Quilt 44" x 56"

Joannes Designs Week52 'Flight Quilt' is a quilt designed in rows and inspired by a quilt I found on pinterest called 'Simple'. Unfortunately I didn't pin it onto one of my quilting boards so I can't give credit to the appropriate person.

When I tried reproducing the quilt in EQ7 I found I saw completely different patterns depending on the colours I used and whether I reversed the colour values. 

You can choose to make this quilt in graduated colours as shown here or use only 2 colours eg turquoise & white.

Jump to the free Joannes designs week 52 pattern for Flight Quilt

Perfect for the Beginner Quilter

The blocks in this quilt are easy to make and you will have noticed that each row is made up of 7 blocks each. Three of these blocks require no sewing!
Below I have shown you how to construct each of the two sewn blocks in the quilt. The method you use is the same for both blocks so make sure that you have the correct pieces to sew together.

Block Construction Directions

Step 1:

Lay out your five pieces as shown on a flat surface

TIP: For the best results it would be a good idea to starch each fabric piece first if you haven't already. Starching your fabric helps give you accurate piecing, crisp folds as well as stabilizing your fabric. You can buy spray starch from your local quilt shop.

Step 2:

Following the numbers on the block diagram sew:
Piece 2 to piece 1
Piece 3 to piece 1
Press seams towards the darker fabric
Step 3:

Following the numbers on the block diagram sew:
Piece 4 to piece 1
Piece 5 to piece 1
Press seams towards the darker fabric
Step 4:

Trim block to size - 6 1/2" x 6 1/2". It is this last step that makes piecing all your blocks together much easier.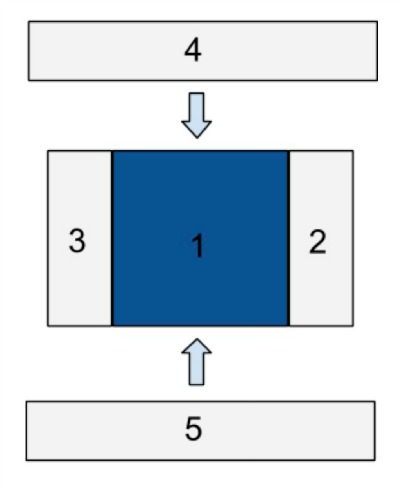 This quilt 'Flight' looks like birds on their migration flight. When you reverse the colours the quilt then looks more like city buildings. If you used yellow as your colour then the quilt resembles the City at Night. Have fun choosing your colours because you will be creating a very different quilt.
Scroll down the page to see these variations.
The quilt is made using 9 different shades of the same color and a plain (solid) fabric. There are three different blocks within this quilt, all finishing at 6" x 6" and they are all very simple to make. Below I have added a rotary cutting guide for each block.

To download the pattern or block rotary cutting guides click on the images below.


Week52 Pattern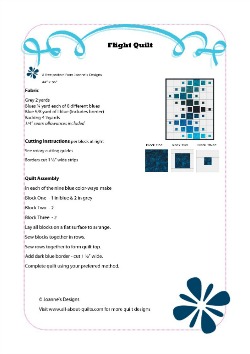 Choosing your Colours


Below I have shown a couple of variations that I came up with using this design. I hope you enjoy them.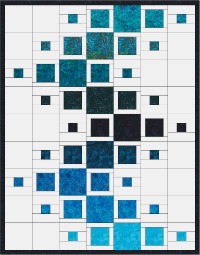 My advice when making this quilt:

This quilt is very simple and contemporary in its design which is a delight. Think carefully about your color choices as this will radically alter the finished quilt. With this in mind you can use this pattern for any age group.

I have enjoyed doing this pinterest challenge over the last year and I feel more comfortable using EQ7. Now I'm ready to begin another quilt journey. I've recently started making the blocks for my 'Dear Jane' quilt so I will begin adding those to this site!!


I hope you enjoyed Joannes Designs Week52. No more patterns to go!

---
My Amazon ads are my affiliate links. Thank you.
Sign up for my newsletter below!