Joannes Designs Week49


Off Side Quilt 56" x 56"
Joannes Designs Week49 'Off Side Quilt' a very simple quilt designed after seeing a similar quilt I found on Pinterest. I haven't been able to locate who made the quilt I saw so unfortunately can't pass on the credit to them. 
This quilt design creates havoc with your eyes! I have designed one other quilt over the last year that also plays with your eyes once finished, it is 'Turning Quilt'. They seem to create an optical illusion of sorts.

This quilt is made using 36 of the same block. The variations come from two things:
Block placement - I have rotated the block so that it creates an illusion and also some fun.
Color choice of the 6 1/2" x 6 1/2" squares - I have chosen nine different fabrics within one color theme. Here you can choose any color theme you like or just delve into your stash and have some fun!

| | |
| --- | --- |
| To your right I have shown the block used to make this quilt. It's finished size is a 9" square. | |
I have given two alternative quilts designs for using this block in. The first is quite traditional and the second is more contemporary. It is this second version that I saw on someones pinterest board. If you decide to make the second version then as far as fabric yardage goes you will need to buy slightly more white fabric. This extra white fabric is then cut into nine 9 1/2" x 9 1/2" squares and placed in diagonal rows through the quilt. See diagram for a guide.

To download the pattern, fabric yardage guide or block rotary cutting guide click on the images below.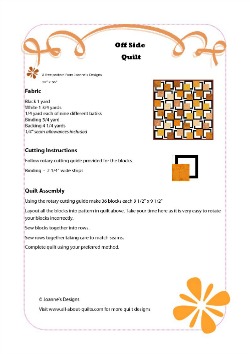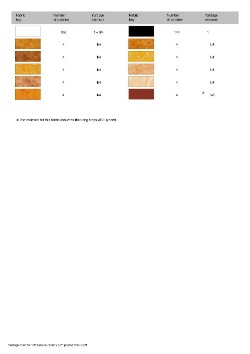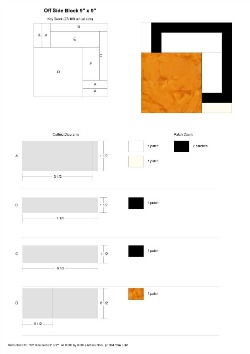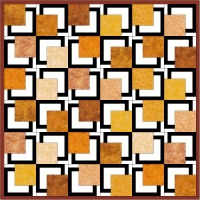 My advice when making this quilt:

Have fun with this design. Apart from block placement there isn't a lot that can go wrong for you here!

I hope you enjoyed Joannes Designs Week49. Just 3 patterns to go!

---
My Amazon ads are my affiliate links. Thank you.
Sign up for my newsletter below!