Joannes Designs Week44


Baby Argyle Quilt 46" x 46"
Joannes Designs Week44 'Baby Argyle Quilt' a design that is based on the argyle pattern often found used in socks and sweaters. It is made up of diamonds which have an overlay of inter crossing lines. These are usually placed on-point. I have simplified the pattern into horizontal squares rather than diamonds.
The quilt is a great one to delve into your stash to make or buy a selection of fat-quarters. I have not added a yardage guide here as you can choose any combination of colors that you want.

Each block within the quilt is 9" x 9". The sashing is cut 2 1/2" wide to finish at 2". I have added an alternate block design that can be seen below. The original block is on the left and you can see the white strips are wider than those in the block on the right. The narrower strips are more in keeping with the argyle design. I have added rotary cutting guides for both blocks. The difference to the overall quilt size is 1".

Below are two alternative quilts to the original pattern. In the blue one on the left I have used a different colorway. Whereas in the pink one on the right I have used the alternate block with the narrower white strips.

To download the pattern or block rotary cutting guides click on the images below.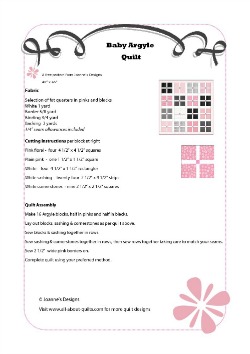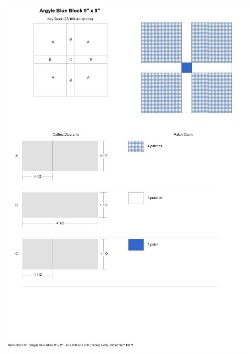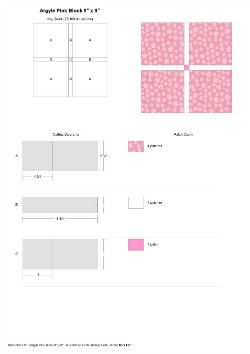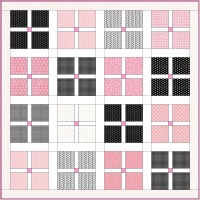 My advice when making this quilt:

This is a very simple quilt to make.
If you are wanting to make your quilt using more traditional argyle colors then I would use Goggle Images to see a wide range of choices. It is what I did! I chose to use two colors but it would also look fabulous made using three colors - have fun!
I have used sashing between my blocks. The benefit of this is twofold:
It creates a simpler design
It means you don't have to have matched up the seam allowances perfectly which would spoil the overall effect on the quilt.
I hope you enjoyed Joannes Designs Week44. Just 8 patterns to go!
---
My Amazon ads are my affiliate links. Thank you.
Sign up for my newsletter below!