Joannes Designs Week43


Transparency Quilt 63" x 78"
Joannes Designs Week43 'Transparency' a quilt designed to be made from four carefully chosen fabrics. I have seen this quilt on several different occasions and it has always intrigued me.
I even tried to put one together a while back and the results were not good. My fabric choice was not helping to give the 3D effect.

This time I had another close look at the design and decided the best colour combination is to use is one that is graduated in colour - white, dark grey and a third that is a combination of both.
I thought of this combination as layering white chiffon over a dark fabric and that will then give you your colour for the central square. Now you know why I called this quilt Transparency Quilt!
| | |
| --- | --- |
| Each block in the quilt is made 12" x 12" finished. There are 20 transparency blocks. The sashing is cut 3" wide and is made from the same color as the two corner pieces in the block. The border is made from strips cut 4 1/2" wide, finishing 4" wide. | |
To download the pattern, block rotary cutting guide or fabric yardage guide click on the images below.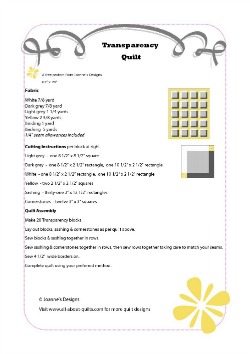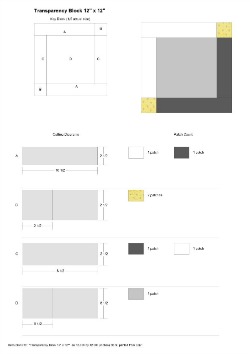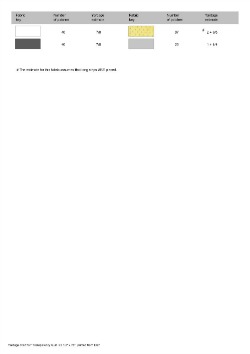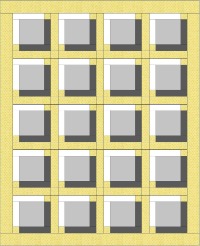 My advice when making this quilt:
This quilt is very simple to make, even a beginner quilter can make this one!

In my pattern I have placed cornerstones between the sashing but I have made these in the same fabric as the sashing. You could easily omit the cornerstones and instead cut your horizontal sashing in one piece. To do this your piece would need to be cut 56" x 3". This would mean that you either need to make this strip from two strips of fabric and join them or alternatively cut this length from along the selvage edge of the fabric. You choose.

Choose your fabrics very carefully! You want your quilt to look like each block has two floating squares that have been off set.

Once you have chosen your fabrics make up a single block to check that you will be pleased with the result.
I hope you enjoyed Joannes Designs Week43. Just 9 patterns to go!

---
My Amazon ads are my affiliate links. Thank you.
Sign up for my newsletter below!