Joannes Designs Week35


Black White Red Quilt 81" x 95"
Joannes Designs Week35 'Black White Red Quilt' a design I created using my favourite three colours while also trialling a new way of designing a quilt on EQ7. This is my first on-point quilt design as well as the first time I  added interest in the sashing with the 5 wee red stars.
I had a few block naming problems that I'm apologising for now.When I work out how to solve these I'll be able to add the names to the block patterns - sorry for any confusion this may create for now.
This quilt is a very easy to make. The 8" x 8" blocks are separated by sashing which form the stars. You can add more stars or not add any at all. Once all the blocks have been cut and sewn this quilt goes together quite quickly. I love scrappy quilts as well and this is an ideal quilt to delve into your stash and make.


I have made this quilt quite large so that it works on several different bed sizes but it is very easy to downsize. Make fewer blocks per row and column.

My quilt is made up from 50 identical blocks. Each block is 8" x 8" finished and is made using a graduation of color from dark to light.


I have added two different width borders to this quilt. The first is cut at 2 1/2" wide and the second at 3 1/2" wide.

To download the pattern, different block rotary cutting guides or fabric yardage guide click on the images below.

Quilt Block: Make 30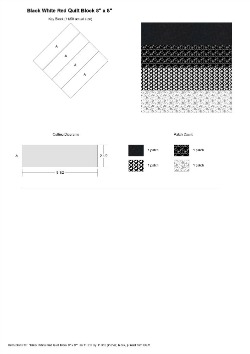 Sash Block: Make 100

Red Star Sash Block: Make 20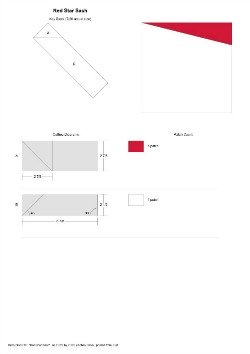 Cornerstone Block: Make 5 Red & 44 Black

Side Triangle Block: Make 18

Small Side Triangle Block: Make 22

Corner Triangle Block: Make 4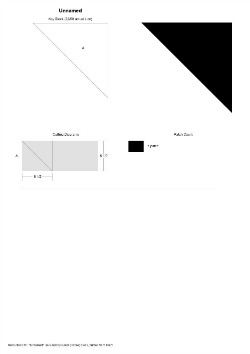 My advice when making this quilt:

This quilt needs a careful choice with colour. The 5 wee red stars are the focal point within the quilt and need a contrasting colour to shine. Below I have added a few colour alternatives to show you some alternative colour combinations.

If strip piecing is your preferred method then this quilt lends itself to this method. I have made all the blocks and sashing 2" wide finished so remember to cut your strips 2 1/2" wide.

A quick method to making the striped blocks in this quilt is to cut the 4 fabrics into 2 1/2" strips and then sew them together. Press seams towards the dark fabrics. Next cut the sewn strip into 8 1/2" blocks.

Cut all the sashing and cornerstones from 2 1/2" wide strips as well.

Before sewing the blocks, sashing and cornerstones together make up 20 Red Star Sash Blocks.

Lay all the blocks out on a flat surface or design wall. This is the time to adjust the positioning of any of the blocks especially if you have graded the color like I have. It is so easy to have one facing the wrong way!!!

I hope you enjoyed Joannes Designs Week35. Just 17 patterns to go!
---
My Amazon ads are my affiliate links. Thank you.
Sign up for my newsletter below!