Joannes Designs Week31


Postage Stamp Quilt 63" x 63"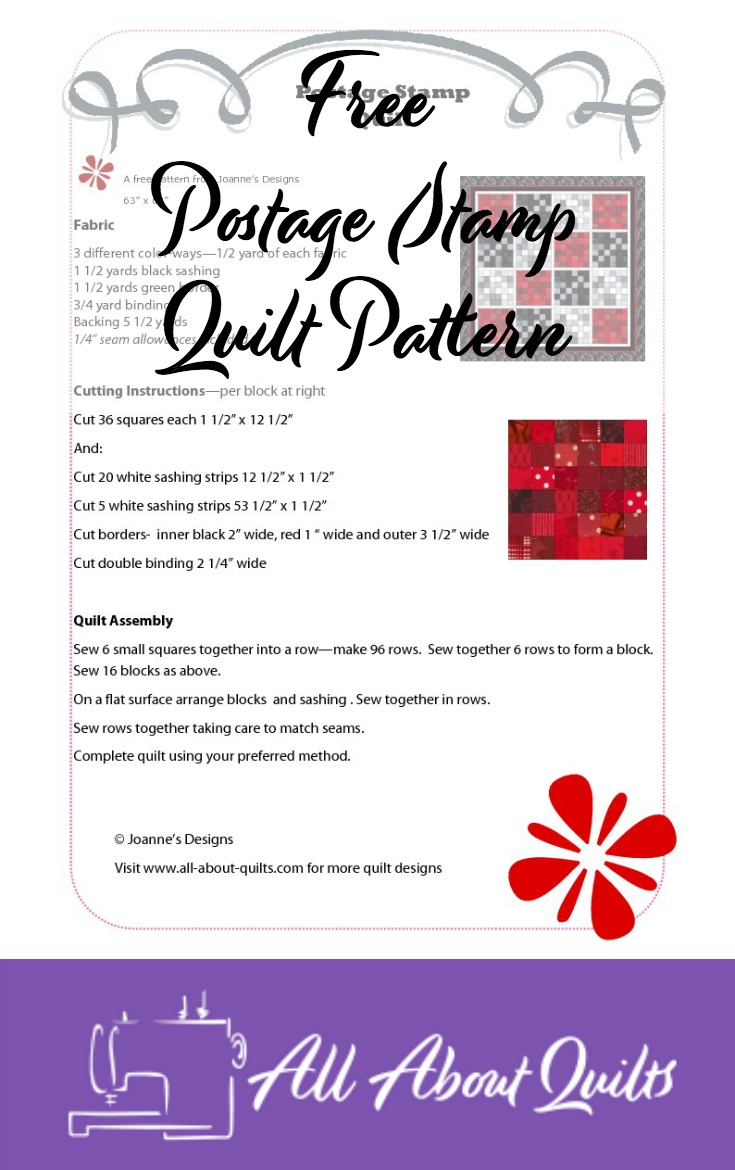 Joannes Designs Week31 'Postage Stamp Quilt' a design I created using only three colours. Like a couple of other quilts I have designed lately I am still in love with this colour combination. After being inspired by several quilts I saw on Pinterest and the first quilt pattern I placed on this challenge I have a love of quilts made from wee squares using the fabrics from your stash.
This quilt has been designed with the beginner quilter in mind as well as the quilter who wants to make up a quick quilt. With the small squares in this quilt ( 2 1/2" x 2 1/2" including seam allowances) you will be able to delve into your box of smaller pieces! This quilt can be made from scraps and there is no right number of fabrics to use.
My block is made from 36 squares but if you would like to make a larger quilt then either increase the number of wee squares in each block or make more blocks.

This quilt is best made by cutting your coloured fabrics into 1 1/2" strips. Then cut your strips into 12 1/2" rectangles followed by cutting the remainder fabric into 1 1/2" squares. This is a very economical quilt to make with almost no fabric wastage (especially if you have delved into your stash!).

The black fabric needs to be cut into 2 1/2" wide strips and the corner stones into 2 1/2" squares.

There is a 3" wide border around this quilt as well as a binding in the same fabric as the sashing.

To download the pattern click on the image below.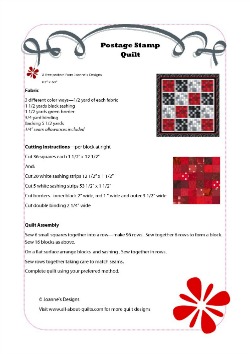 My advice when making this quilt:

Be bold and use up your stash - any fabrics will look great as it is the white or if you prefer black sashing that sets this quilt off.

If you want to make a larger quilt than I have then there are 3 easy options to look at:

1. Increase the size of each square from 2 1/2" to 3 " or similar
2. Increase the number of squares in each block. Mine is 6 x 6. You could do 7 x 7 or 8 x 8 etc.
3. Increase the number of blocks in each row and column.


A very quick method to use to make the rows of small squares is outlined below:

1. Cut 6 lengths of fabric all 2 1/2" wide
2. Sew lengths together forming a block
3. Press so the seam allowances are all lying in the same direction.
4. Cut across the rows at 2 1/2" wide intervals

When all your blocks have been sewn together, lay out your design on a flat surface - either a design wall, bed or floor. Add sashing. This is the time to determine whether black or white sashing looks best.

This quilt lends itself to using the strip piecing method and it would certainly speed up the time required to sew all the pieces together.

I hope you enjoyed Joannes Designs Week31. Just 21 patterns to go!

---
My Amazon ads are my affiliate links. Thank you.
Sign up for my newsletter below!