Joannes Designs Week22


Star Bright Quilt 47" x 47"
Joannes Designs Week22 'Star Bright Quilt' a design I created using two different blocks. I am having fun designing quilts made from several different blocks. I'm hoping to extend this block combination later in the year.
The first is a simple 9 patch block variation and the other block is a simple star applique block. I have kept the background fabric of this block very light and the applique stars lovely and bright.
The finished size of this quilt makes it an ideal throw quilt. To make it suitable as a generous baby's quilt you would need to add 2 extra rows and columns bringing the finished size to 59" x 59". 
To make this quilt you will need to make 49 blocks, 25 in Block A and 24 Star Block B. Each block is finished at 6" x 6" and are easily cut using the rotary cutting guide and the applique template below.


When making the 24 appliqué star blocks it is best to read the manufacturers instructions for the bonding web you use. My personal preference is Steam a Seam. I also like to use an Appliqué Pressing Sheet. These are fantastic as they keep your ironing board clean as well as allowing you to place the appliquéd flowers centrally on the block as they are see through.

For a more detailed explanation of how to create an appliqué visit my appliqué tutorial.

To download the pattern, rotary cutting block guide or applique template click on the relevant image below.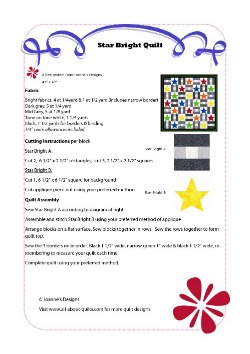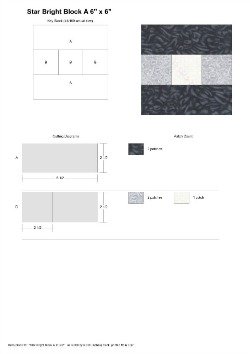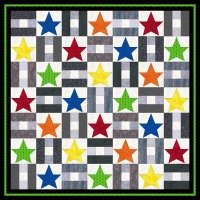 My advice when making this quilt:

When sewing appliqué I find it best to stabilise your backing fabric first. This will stop the puckered edge from happening when you are stitching on the stars. The easiest method is to use spray starch (available at the supermarket). Here is how I do it:

1. Cover ironing board with an old towel or similar.

2. Spray a light coating of starch on background 5" square then iron with a dry iron.

3. Repeat till fabric resembles very fine card. Usually 2 or 3 applications.

You can do this to all the backings at the same time. Once your quilt top is finished most of the spray starch will have gone. 

To make your appliqué here is what I use & do:


1. Trace around the appliqué template onto steam-a-seam. Rough cut out - not on the lines but about a 1/4" or so away.

2. Peel off & discard the paper backing that doesn't have the pattern drawn on it. Then place the template on the wrong side of fabric. Press.

3. Cut out carefully along lines.

4. Peel off the second paper and discard. Position star right side facing centrally onto the right side of the 6 1/2" background fabric. Press.

5. Machine stitch around the appliqué using your preferred stitch. I use a blind stitch in matching thread.

I hope you enjoyed Joannes Designs Week22. Just 30 patterns to go!

---
My Amazon ads are my affiliate links. Thank you.
Sign up for my newsletter below!