Joannes Designs Week15



Eye Spy Quilt 56" x 68"
Joannes Designs Week15 'Eye Spy Quilt' a design I created to showcase a range of large fun print fabrics. I have often seen Eye Spy quilts made up using fabulous fabrics and in a simplified block design. They all looked great and would be wonderful conversation pieces for the very young.
I have used a simple block design but added a magnifying glass to applique on those stunning fabrics!
This quilt lends itself to be made from fabrics from your stash. I have made two blocks from my stash and shown them below.
This is a quilt where you can have as much fun as you like choosing your fabrics. My quilt design uses all bright fabrics but it would look equally stunning in pastels or following a specific colour way or theme. When cutting out your circles for the magnifying glass ensure you have an image in it that can be found/identified by the quilts recipient.
This quilt makes a large baby quilt that can also be used when the baby grows out of the crib/cot and moves into a big bed. My daughter had a large quilt for her daughter and she loved that it worked on the large bed as well. You need to make 20, 12 1/2" blocks to complete this quilt. The border is made from scrap fabrics pieced together into strips. Each piece is approximately 3 1/2" x 3" wide.

To download the pattern, templates or rotary cutting block guide click on the images below.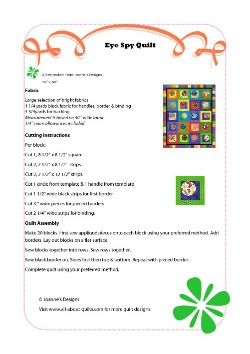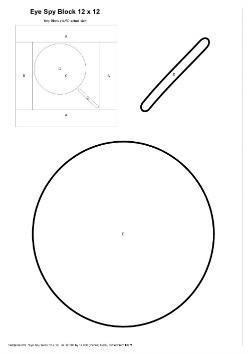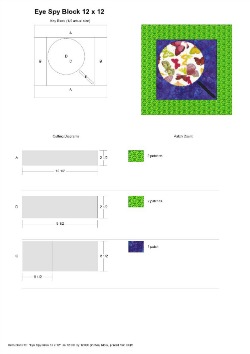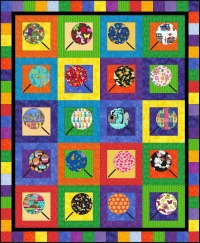 My advice when making this quilt:

1. Follow manufacturers instructions to make appliques, eg Lite Steam A Seam 2 shown above is my preferred brand of appliqué webbing.

2. To see my applique tutorial view here.

3. To accentuate the magnifying glass sew with a black thread and close stitches. This will give the effect of the glass having a dark rim around it.

4. An alternative to number 3 above is to add another fabric layer as seen in the block below.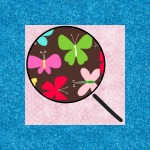 5. Trim all blocks to size - I use a rotating cutting mat for this as I find it is quicker and more accurate.

5. The pieced border uses small pieces of fabric approximately 3 1/2" x 3" wide. Have fun with this border and use whatever size of fabric pieces you like.


I hope you enjoyed Joannes Designs Week15. Just 37 patterns to go!
---
My Amazon ads are my affiliate links. Thank you.
Sign up for my newsletter below!