Joannes Designs Week10

Kitties Quilt 47" x 47"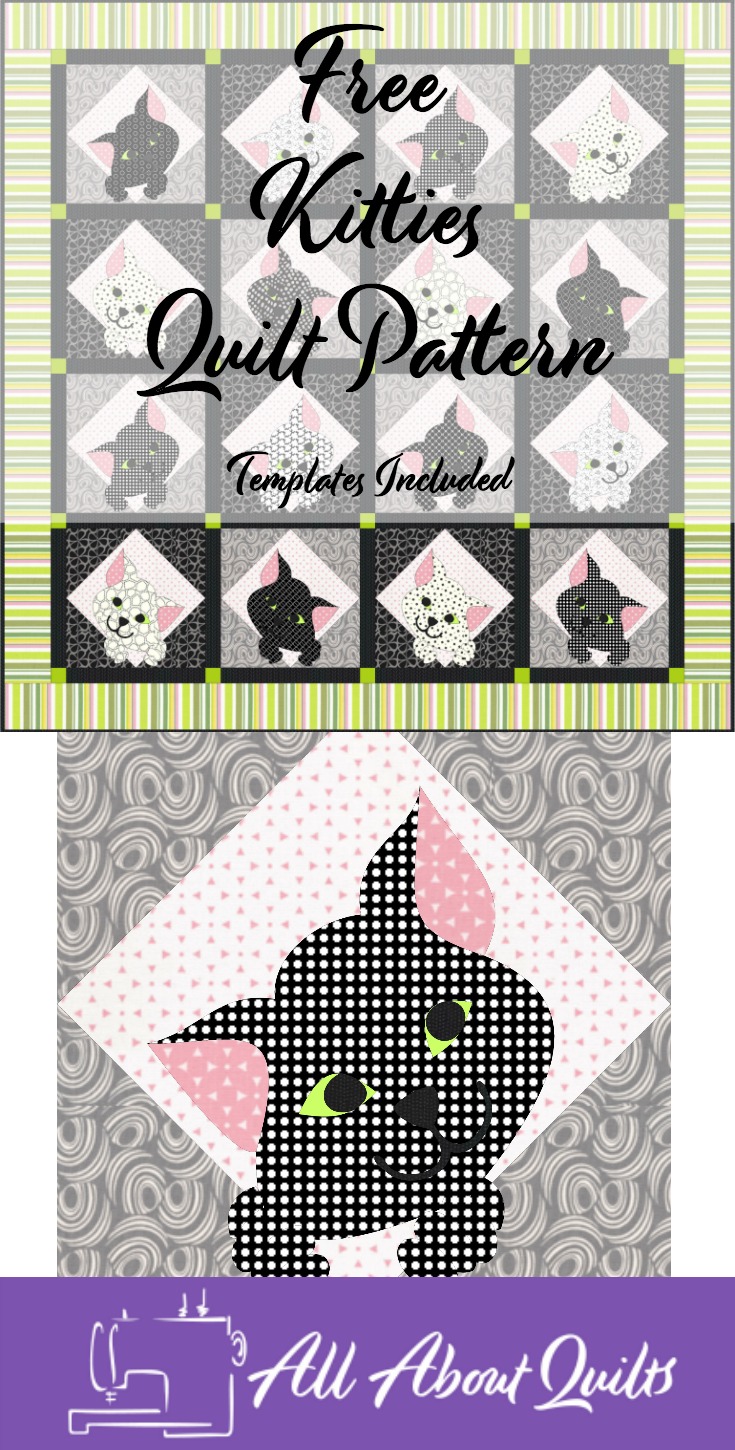 Joannes Designs Week10 'Kitties Quilt' was a design I created to showcase a limited colour range using three main colours - black, white and pink. The beauty of working with black and white is that it is very easy to substitute the third colour pink with any other colour!
This quilt is large enough to use as a throw or as a quilt for a baby.
To make this quilt you will need a variety of black on white and white on black fabrics. You will also need two shades of pink - one for the ears and the other for the centre of the background block. A small amount of green is used for the kitties eyes and the sashing.

Below the pattern I have given advice for how to complete the appliqué kitty block. Raw edge machine appliqué is my preferred method for appliqué. For details showing how I do my raw edge appliqué visit my Free Appliqué Tutorial. Feel free to use what ever your preferred method is.


To download the pattern or kitty templates click on the relevant image below.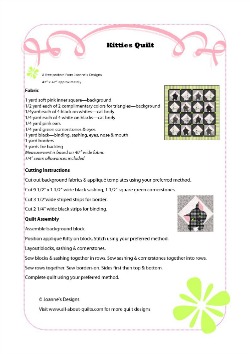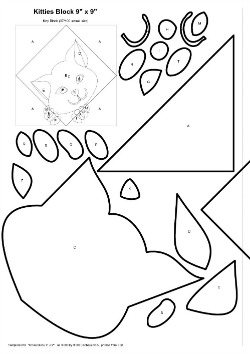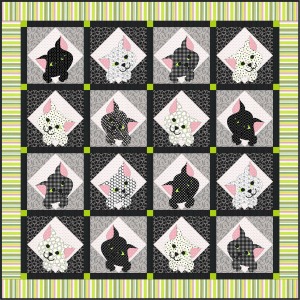 My advice when making this quilt:
These are my 3 favourite supplies that I use.
First: The rotating mat I use to square up all my blocks. I find using this mat gives me more accurate blocks and takes less time!
Second: Lite Steam a Seam 2 is my preferred adhesive web due to its ability to stay on my appliqué mat even if there is a breeze.
Third: This is the exact appliqué pressing sheet I use and it is now 12 years old and showing no signs of wear & tear yet. Hence my recommendation.
Sew together your background blocks first. These will measure 9 1/2" x 9 1/2" unfinished.
Following the manufacturers instructions on the steam a seam (or similar) make the 16 appliqué cats. I have designed the cat template for raw edge appliqué so if you are wanting to do turned appliqué you will need to add your seams allowances.
Remeasure each of your completed cat blocks and trim where necessary.
Layout all of your finished blocks on a flat surface and position the sashing & cornerstones.
Sew your blocks and sashing together in rows first.
Sew the sashing and cornerstones in rows next.
Remember to measure your quilt top in 3 places to get an average measurement before cutting your borders. My advice is to always cut your borders to match the actual quilt, rather than follow the pattern measurements.

In the photo below I have shown the quilt using a different colorway.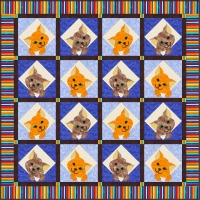 I hope you enjoyed Joannes Designs Week10. Just 42 patterns to go!

---
My Amazon ads are my affiliate links. Thank you.
Sign up for my newsletter below!