Go Go Go
Teddy Quilt 20" x 20"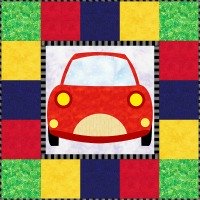 This Go Go Go doll or teddy quilt measures approximately 20" x 20". I have designed this quilt with a central applique piece surrounded by 2 different borders. Purchasing a selection of fat quarters will be perfect for this quilt or alternatively delving into your stash. Being such a small quilt your stash wont go down by much!
When making the appliqué car in the middle it is best to read the manufacturers instructions for the bonding web you use. My personal preference is Steam a Seam. I also like to use an Appliqué Pressing Sheet. These are fantastic. Once you have prepared your appliqué pieces you then assemble them in order on the pressing sheet. When you are happy with the layout you simply press (iron) the pieces together. Then once cooled you can remove the completed car and position it onto the backing square. Another advantage of the pressing sheet is that it can be seen through so placing your pattern underneath helps to obtain better placement.
For a more detailed explanation of how to create an appliqué visit my appliqué tutorial. To download the PDF pattern and appliqué templates click on the appropriate image below.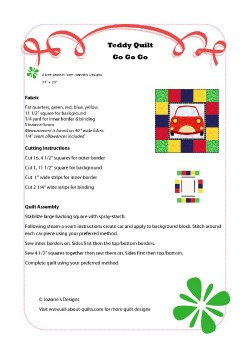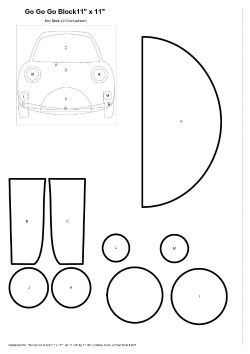 1. Make up you appliqué block first
2. Add your inner borders beginning with the right and left sides first. Next add your inner borders to the top and bottom.
3. I have added an assembly diagram in the pattern showing how to sew the 4 1/2" squares together.
4. Sew the sides on first and then finish by sewing on the top and bottom borders.
Below I have added a quilt made using the car block appliqué templates. It was a BOM that I designed for my quilting group. It is not a doll quilt but it does show how stunning this quilt looks. There have been three noticeable additions that just add that extra special touch. The steering wheel, the window detail and two of the blocks have had a number plate added.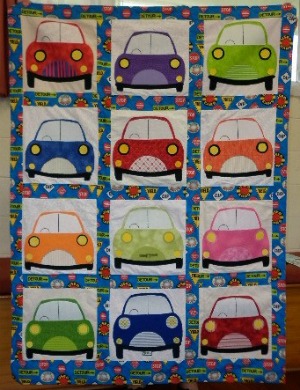 ---
Sign up for my newsletter below!