My DJ Machine Pieced Blocks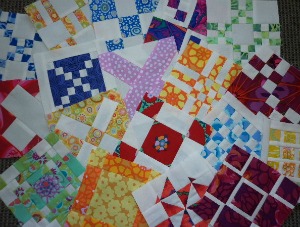 My DJ machine pieced blocks shows which blocks I am making or have made using this technique. I will show in some detail one of the blocks I make and then add other blocks that I have also made using this technique.
I have used the EQ (The Electric Quilt Company) program 'Dear Jane' as my design and pattern source. This is not the only source of these wonderful patterns but for me it is the easiest! No chance of me muddling up the size of any of the tiny pieces in any block and if I'd wanted to, I could have changed the size of the blocks I'd make at the touch of a button! That would have made for an enormous quilt when finished!
For all these machine pieced blocks I didn't need to print out any patterns as a quick look at my computer was all I needed to do.
Below is L-4 a machine pieced block.
| | |
| --- | --- |
| | On the left I've shown the first page of the rotary cutting guide that I used from EQ to make this block. I didn't even need to print this out! |
| | |
| --- | --- |
| | Cut out colored fabric pieces and have the contrasting (back ground) fabric ready. I have pre-cut a range of strip widths and bagged them making this so much easier. This saves time & fabric wastage. |
Layout all pieces into block.

If you look closely you'll notice that I cut my 3/4" strips differently from the rotary cutting guide as I prefer a more modern & geometric piecing than in the original Jane Stickle quilt. See the center block - my strips are all cut with the left & right sides being the same and the top & bottom also being the same.

| | |
| --- | --- |
| | Sew pieces into a nine patch formation. |
| | |
| --- | --- |
| | Sew blocks into rows. |
L-4 finished!

Not hard to do at all. The greatest problem I find is keeping the seams straight when sewing over several thickness of material at the seams. Because these blocks are so small a slight wiggle shows!!

Following are more machine pieced DJ blocks that I have made.
Row A
Row B
Row C
Row D
Row E
Row H
Row I

Row J

Row K

Row L

Row M

Below is a photo of my finished dj quilt top. It was a lot of fun to make and has turned out to be a very large quilt indeed.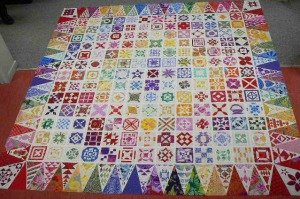 I hope you are inspired to start making your own Dear Jane quilt!
Return From DJ Machine Pieced Back To My DJ Journey

Return To Quilts Home Page
Sign up for my newsletter below!