Window Block

Block of the Month - 8 1/2" x 8 1/2" (unfinished)
The window block was designed as an alternative to the I spy block shown here. When I used this block with my group I added a wee sample of fabric so that people could coordinate their fabrics with the supplied one. In hind sight I don't think this was necessary. The blocks made were fabulous and worked extremely well together.

There are so many great novelty prints on the market. You could theme this one to be age specific. Baby prints are easy to find but you could also do a Christmas, Halloween, plaid, Valentines or foodie themed block. The options are almost endless.
Another option to consider is to add an applique within the large square such as a heart, cat silhouette or similar. Just use google to find an image that you like. You are welcome to use any of the images that you find on my site as well.
Click on the image below to download a PDF of this BOM.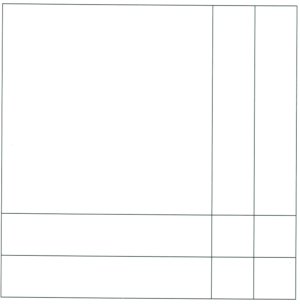 This block requires the use of a large print novelty fabric and two contrasting but coordinating fabrics that are either solid or have a very small print on them. One should be noticeably lighter than the other.
Instructions:
1. From large novelty print cut one 6 1/2" square
2. From lighter fabric cut two 6 1/2" x 1 1/2" rectangles and two 1 1/2" x 1 1/2" squares
3. From darker fabric cut two 6 1/2" x 1 1/2" rectangles and two 1 1/2" x 1 1/2" squares
4. With right sides together and using a 1/4" seam sew one lighter square and one darker square together. Press. Repeat with the other two squares. Sew these pairs together. Press.
5. Sew one lighter rectangle to one darker rectangle. Press. Repeat.
6. Referring to the layout above sew the units together into the finished block. Press. Remember to try switching the lighter and darker rectangle fabric placement next to the novelty block to see which works best.
---
Sign up for my newsletter below!