Wee Village Quilt

Completed 2014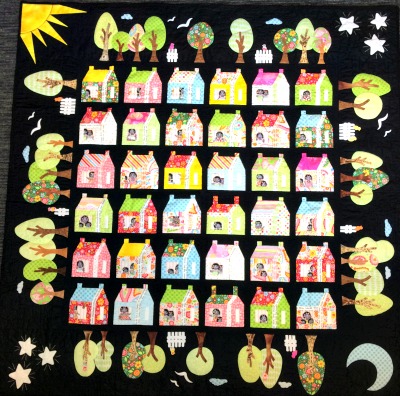 My wee village quilt was a lot of fun to make. The inspiration for this quilt came from a quilt I found on Pinterest and I have shown it below. I tried to find the creator of this quilt to give her credit but unfortunately the link went to a photo only.
I had been given several fat quarters for Christmas including the Golly one that you can see I used in my windows. I managed to get just enough Gollies for my wee houses out of a fat quarter - with several gollies looking like they are peeking out from behind the curtains!
The very bright fabrics look stunning on black and I had a lot of bright fabrics in my stash to choose from.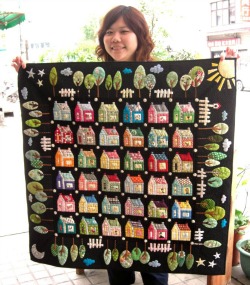 As I'm still into foundation paper piecing I made my houses using this technique. Each house block is 6" x 6" finished and I made 36 of these wee cuties.

After completing this quilt I realised that the original quilt's houses must have been quite a bit smaller than mine.

The borders I made using raw edged machine applique - another of my favourite techniques! The trees, fences, clouds, birds, stars, sun and moon were all drawn freehand by my daughter so unfortunately I have no pattern for those to add here. I used 3 different tree shapes, with each shape coming in 3 different sizes. That gave me 9 variations of  trees to play with.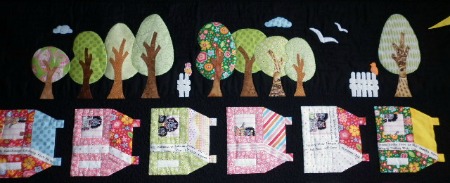 The wee colourful birds that you can see sitting on the fences or in a couple of the trees were added as an after thought. I've just spotted a letter-box/bird house in the original quilt and I wished I had added one of those!
Another wee happy accident happened after I had completed the quilt center and was assembling the borders. I was concerned that I didn't have trees of the same size, shape and fabric on each corner. When this was sorted and the sun & moon added I realised I had a nice unintentionally made a wee surprise. You will notice that there are several houses that I have used yellow in and these just happen to be placed in the same corner as the sun shines!! This also creates a darker or cooler tone from the moons corner! What a happy accident!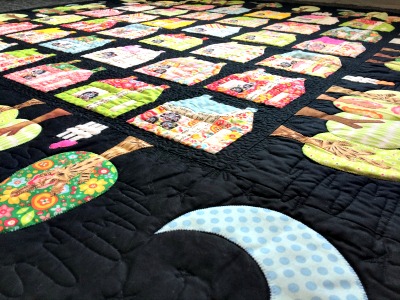 Return From Wee Village Quilt Back To Quilt Pictures
Back To Quilts Home Page

Sign up for my newsletter below!