Twisted Sister Quilt

Made in 2007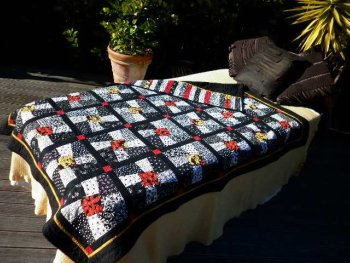 My Twisted Sister quilt was one of my early quilts. It was a great quilt to make as it was straight forward and the final quilt looked great. I had taken one of my daughters to a quilt shop to choose a quilt pattern that she liked and one that I could make. She saw a lap quilt made up as a sample for this pattern and fell in love with the colors. I fell in love with the simplicity of the design. I felt sure I could make this.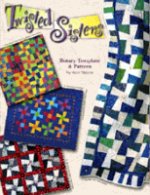 We choose fabrics similar to the sample quilt and bought enough fabric to make a single bed quilt. My daughter was going through a dragon phase so we settled with dragon fabric being used in the center of each block. She was also keen on black.
The pattern is an Ami Simms pattern. Visit her website at Ami Simms for a range of great information regarding this quilt. Ami offers a free tutorial complete with photographs detailing each step. She also has a section where quilters have submitted photos of the quilts they have made using her pattern. There is a great range of colors used within this section and it is a great place to go and view finished quilts.
When looking at my backing I realised I hadn't bought enough fabric. So as can be seen in the photo above I sewed strips of fabric together and added them to one side of the backing. I've decided I like backings having some interest even if it was out of necessity.
More than 6 years have passed since I made this quilt and it has survived several flats as well as several cats. Apart from still being covered in cat hair it is still loved by my daughter!!

Sign up for my newsletter below!