Tween Busy Book
Made for Aleisha 10-12 years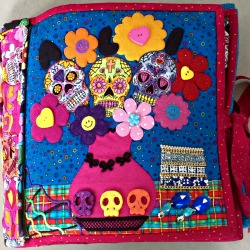 My granddaughter Aleisha requested I make her a tween busy book after she saw me making one for her younger sister! Well that was a challenge that I couldn't pass up on. She was into sugar skulls at the time of her request so her mum and I had fun designing one for her with this theme in mind.
We sourced a range of sugar skull fabrics to start with and then began creating the pages.
I have added a few detailed photos of the completed book, showing how it is assembled at the bottom of this page. You will see that this book can have each of its pages removed from the book due to each page having velcro sewn into it during construction. This means that it becomes very versatile allowing for pages to be added, swapped etc and also any repairs can be undertaken more easily.

Below you will find the pages that I have made for her book. 
Craft pocket - to hold pads
Craft handbags - to hold a range of pens
Doll page with self storage pocket to store clothes and bedding
Tic Tac Toe
Build a Sugar skull
Sugar skull coffin storage
Snakes 'n scars
Boggle
Animal heads in bed
Cup cake creations
Tangrams
Cat maze - back page
A few detailed photos showing the books construction follow...
I used the strong velcro to join the pages and placed gross grain ribbon beside it to help protect any of the page contents from being damaged. Gross grain ribbon is the only ribbon that I have found that stands up to the aggressive nature of velcro.
Time will tell how well this all works. So far my first busy book that has been in use for 6 months has survived well.
Tips
Each page has been bound like you would bind a quilt, using double binding to handle all the wear and tear that it is going to endure.
Quilt batting or pellon was used between the pages
Iron on fusible webbing was used to attach pieces before being sewn down
Spray starch helped to remove stubborn creases in the fabric
Sign up for my newsletter below!