Straight Furrows
Log Cabin Design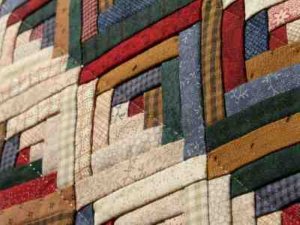 Straight furrows is a popular design using the basic log cabin block. It is created by arranging the blocks in a linear and diagonal configuration.
For those wanting access to free log cabin patterns.

Sew all your individual log cabin blocks first. Next lay out all your blocks into the quilt design.
If you have a design wall, put your blocks up on the design wall before you sew them together to make sure you have them all aligned properly and have made enough blocks. It's easy to get a block or two turned around in the wrong direction if you don't lay them out and inspect your layout. If you don't have a design wall, a large bed or a clear floor space also makes a good place to lay out your blocks. Sew the blocks into rows first, then join the rows together into a complete quilt top.
Often with the more modern log cabin designs it is imperative that you have the same number of blocks in each row or column for symmetry. This means that these quilts are always finish as a square. The straight furrows design can be made with any number of blocks in a row.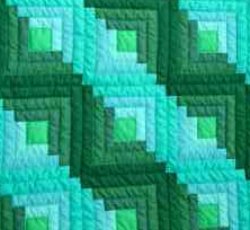 To add a stunning element to the quilt you could add a self border that was made out of the same sized log cabin blocks but change the direction of the blocks. Again this is another area where you can experiment to get the best effect!
A second option to think about is making the self border blocks somewhat darker that the main blocks. Doing this makes the border more pronounced.
When planning your border remember that adding the blocks at the time of assembling the quilt will be a lot easier and require no extra effort - food for thought!
Sign up for my newsletter below!