Sewing Machine
Choosing a sewing machine to buy specifically for quilting can be a daunting process, as I found out recently. There are a wide range of machine brands and models within each brand on the market today. Asking yourself several key questions first will help you focus on what you need in a machine.
What will the machine be used for?
Are you going to use the machine for quilting exclusively or will you be using it for making clothing, mending etc. If it is to have multiple uses then you may need to consider a wider range of features. For example sewing buttonholes and zips.
Ask other quilters for their advice.
Asking other quilters questions about what features they deem necessary helps you to reduce the chance of overlooking or forgeting anything. I asked my friends what feature they wished their machine did have. This is invaluable if you are new to quilting.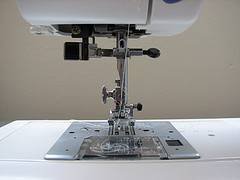 Test drive a range of machines.
Once you have your requirements ready then test driving a range of sewing machines is much easier. I found doing this at quilt and craft shows fabulous, as staff are dedicated to helping you and they have a wide range of their machines set up for this purpose. Also dealers often have show specials on their machines at these times.
When going to test drive a range of machines remember to take your own fabric especially the finer and thicker ones. Try sewing over a seam as well as through batting and trialling their range of applique stitches.
At this time it is also helpful to check out the following:
* Machine servicing & repairs - can it be done locally
* Machine warranty
* Are there classes to help you get the most out of your machine
Some features to consider when purchasing a new machine.
* Does it have an automatic needle threader?
* Is it easy to thread? Can the machine use regular spools and large cones of thread?
* Is it easy to refill and replace the bobbin? A clear bobbin cover helps you see the amount of thread left on your bobbin.
* Does it "tie off" the threads at beginning and end of seams?
* How easy is it to clean? Self lubricating machines will not need to be oiled but vacuuming or brushing out the lint near the bobbin case should be done frequently. It is advisable to take your machine in for service every two years.
* Can you set the sewing machine to a constant speed and are there a range of speeds you can choose from? This is very helpful when appliqueing and stippling.
* Does the machine have a wide arm space? If you are going to do a lot of machine quilting, the larger this area is, the larger the quilt you can manage.
* Can you lower the feed dogs?
* When the machine stops is the needle position up or down? Can you change this?
* Is the walking foot added in, or built in? Dual feed allows both layers of fabric to feed through evenly, giving greater accuracy when sewing borders and quilting long rows.
* Can you adjust your stitch length and width on all your stitches? On the cheaper machines this can be limited and potentially frustrating.
* Does it come with a 1/4" foot or are you able to move the needle position to the left or right to set your seam to 1/4"?
* Check the range of appliqué stitches offered. Do they work well around corners and when sewing curves?
* Will you ever need to make buttonholes? Make sure you like the method the machine uses.
* Check the adjustment ability of both the upper and the lower tension. (Remember to always have your pressure foot down when adjusting tension.)
* Will you be taking your machine to clases? Some machines don't travel well, especially the computerized ones.
* Does the machine come with its own travel case?
* What feet does the machine come with and how easy are they to change?
* Check the light shines on the presser foot area. A white light gives better vision than a yellow light.
Remember you will have your new sewing machine for many, many years. Make sure it's the one you want.
Sign up for my newsletter below!