My Row Challenge Quilt

Completed 2013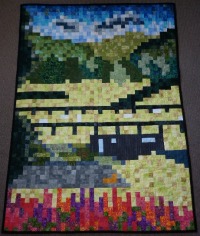 My row challenge quilt was the result of participating in a mystery challenge offered by my quilt group in 2013. There were about 5 of us that took up the challenge and made our quilts following a brief description given out each month for 8 consecutive months.
The instructions were deliberately very general so that each quilter could enjoy completing their project in a style that suited them.

Below I have added the completed instruction sheet we used. Of course not all the months details were given out at the beginning, but rather added month by month. Feel free to use this for your group or to modify it to suit your needs.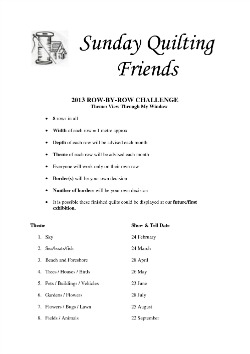 We sourced this idea from another quilting group who displayed their finished quilts at their quilt exhibition in 2012. I'm unsure where they got the idea from though. Below are a selection of the quilts from their exhibition. They are so inspiring!! Unfortunately I took the photos on my phone so the resolution is quite poor - sorry!
I decided to alter my placement of the rows when sewing it together as well as modify a couple of the rows themes. I did this as I was following the title of the challenge 'View Through My Window'.
Above are the photos I took of my view and merged as much of it as possible into the challenge. I noted that one other quilter also bucked the system as well!! I like to think that we were both being creative!!

The photo below shows the first 7 rows laid out on my floor. Just one more section to go!!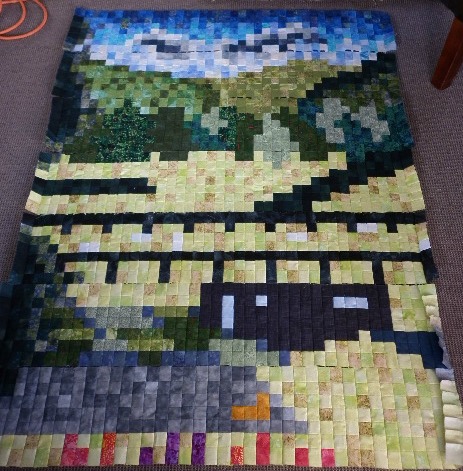 I cut each of my squares 1 1/2" x 1 1/2" to finish at 1" x 1". This created the background for the quilt. All the details were added at the time of quilting. My friend Jeanie did a great job for me. She managed to turn some of my shapes into the intended sheep, family dog, flowers, trees, veggie garden etc.
Sign up for my newsletter below!