Pineapple

Log Cabin Variation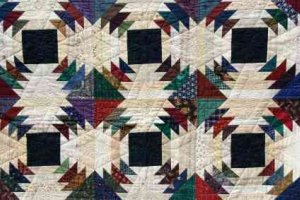 The pineapple log cabin is a more complicated variation of the log cabin. It is also known as Windmill Blades.
The block is based on the same principles as the log cabin, but is usually made into a larger block. Usually an 18" (45cm) block. It is very difficult to attempt such intricacy within a smaller block.
The strips are sewn in much the same way as for log cabin, but in alternate rows of dark and light colours. This design is very effective if worked in one plain colour and white or black.
The positioning of strips is slightly different in that every other journey round the block the strips are laid diagonally across the corners, instead of parallel to the sides of the square.
When the block is finished it resembles four half windmill blades. The whole pattern only shows when the blocks are joined together.
Most people who have made this quilt have used the paper piecing method. After trying this method a couple of times myself I can understand why so many people have a love to hate relationship with it.
Looking for an alternative that was easy to use I came across Gyleen Fitzgerald (www.colourfulstitches.com).
She has a fantastic quilting philosophy - "done is better than perfect, break the rules, do what works for you, have your quilts out and use them or your family will yard sale them when you are gone."

She has designed a pineapple ruler that allows you to make a fuss free quilt blocks. Her book Trash to Treasure Pineapple Quilts shows you how to use this ruler as well as showcasing several of her quilts.
Below are three variations of this block in quilts. Each design is made from a 4 x 4 block formation.
Photo courtesy of Rowena of the Rants
Sign up for my newsletter below!