Mystery Quilt Challenge

Completed 2014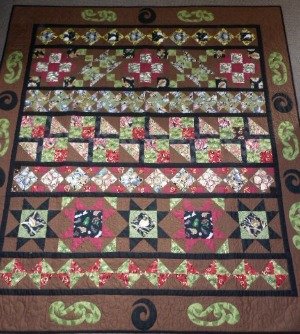 This was my first Mystery Quilt Challenge that I had participated in and it was quite a learning experience! It was offered to my quilting group in 2011 by Donnas Quilt Studio. Thank goodness there were a group of about 8 of us doing it or I would never have lasted the distance and completed the blocks! We were given four color choices to choose from and I decided to step right out of my comfort zone regarding my color choice and went for the Kiwiana color scheme. In hind sight I don't think I will do this again especially when choosing blindly!

Each month we were given the pattern and fabric for that months row. As you can see the quilt is made up of 7 rows with each row having a repeating block. This concept of the project was fabulous and I thoroughly enjoyed making up each row.
My main struggle was with the fabric color choices. I decided to complete each row as described in the pattern each month - I worked on the principle that it just might all come out right in the end. It didn't so I shelved it for a few years. Needless to say it took me several years to come back and finally finish the quilt. I unpicked ( something I hate doing) all the fabric that I felt was a mismatch within the quilt - this was mainly the blues and substituted them with other fabrics. I also changed the sashing and border styles as it was just too busy for me.
Below is a picture of the pattern cover - quite different to what I finally made.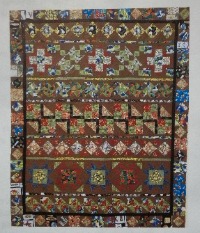 I loved the size of the blocks and how they came together. Each large block was 10" x 10" and the small ones were 5" x 5". With this project I became very aware of how important it was that I cut my pieces of fabric accurately and to press as I went. It was no fun finding out that one row finished a different length from the other ones I had made - all good experiences though! This learning experience was invaluable to me when I began making my Dear Jane blocks.
Below are close up photos of each block in my mystery quilt challenge.

| | |
| --- | --- |
| Rows 1 and 2 | |
| | |
| --- | --- |
| Rows 3 and 4 | |
| | |
| --- | --- |
| Rows 5 and 6 | |
| | |
| --- | --- |
| Row 7 and the border | |
This last photo is of a corner of the back. Another learning experience for me here - to keep the colour of the backing fabric similar to the main fabric used in the quilt front.
This quilt has grown on me and I now quite like it. The colours are very true to the kiwiana colour scheme here in New Zealand. So when I feel like being patriotic I will bring out this quilt!!!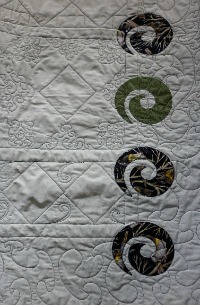 Sign up for my newsletter below!