My Patchwork Bag

Made in 2014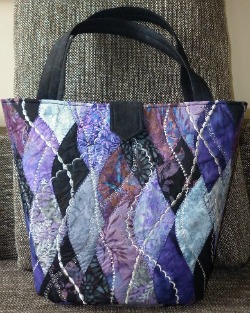 My patchwork bag was made using fabric from my stash and some of those fancy stitches built in to my sewing machine. I must admit to loving the complete process from fabric selection, to sewing on the magnetic closure at the end.

This was a class offered at my local quilting group in February 2014. The tutor mentioned that she had seen a similar bag years ago in a magazine and then designed her own version. I'd love to have been able to share the pattern with you but it's not my pattern to share. I'm sure you could be creative and use a similar technique and any bag pattern you have.
This bag is lined and I sewed in a side pocket on each side of the lining. There are only 4 pattern pieces: front/back, handle, base and leaf template.

To make this bag I purchased the following materials:
Selection of 8 coordinating batik fabrics
60cm of fabric for bag back

Bag batt - this is a stiff batting
70cm of fabric for bag lining
Large magnetic closure
Steam-a-seam or similar
Dark matching thread
Contrasting thread
The template we used was similar to a leaf shape and was about the size of your hand. After fusing the steam-a-seam to the back of my batiks I cut out about 34 of these leaf shapes to use for the front and for the base. The key to placement of the shapes is to avoid creating horizontal lines. It may take a few tries before you get the hang of it. Begin on the left hand side and have fun.
When all the shapes had been positioned and ironed in place I used a dark matching thread and a Feather Stitch to sew around each shape - you can see this in the photo below.
At this point I played with a lot of the fancy stitches on a scrap of fabric from this project. It was amazing how different some of the stitches looked and it made the stitch selection process so easy!!

| | |
| --- | --- |
| | The photo to the left shows a close-up of the front of my patchwork bag. You can see I used a range of different fancy stitches with a contrasting thread. I sewed 3 curvy lines using the same stitch on each side. I think I used 4 different stitches on each side and on the base. |
| | |
| --- | --- |
| This photo shows the back where I decided to leave it plain (not appliqued) and decorate it with the same fancy stitches I had used on the front, in a curvy line format. | |
I used a triple stitch to sew the side seams of the bag together and as extra reinforcement I sewed each side seam open using the triple stitch again - this certainly gives the bag strength!!
The handles were made from bag batt as well.

Sign up for my newsletter below!