Joannes Designs Week27


Christmas Festive Quilt 63" x 63"
Joannes Designs Week27 'Christmas Pinwheel Quilt' a design I created with the festive season in mind. This quilt would also lend itself to being patriotic as well - just change the colours and have fun!
This quilt is made using the pinwheel block. A pinwheel block is made from 4 squares (in 2 different colours) each cut on the diagonal once. I have joined 4 pinwheels together to make each completed block. There are 16 of these blocks in this quilt. Each block is 12 1/2" square, finishing at 12" x 12".
The sashing are 2" wide finished and broken with contrasting cornerstones. You will need 40 sashing each to be cut 12 1/2" x 2 1/2". For cornerstones you will need 25, each cut at 2 1/2" x 2 1/2".

The pieced border in shades of dark green are made from 2 3/4" cut squares. Any size would look great so have some fun.

To download the pattern, rotary cutting block guide or fabric yardage guide click on the relevant image below.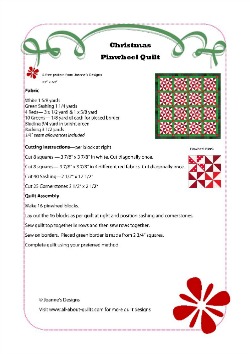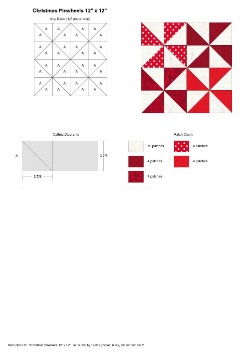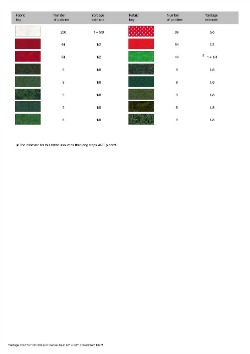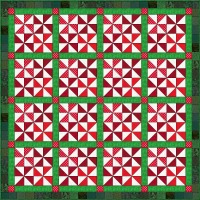 My advice when making this quilt:

Choose bright fabrics. You need three very distinctive colours for this festive quilt. Pastel colours would look great when making a baby quilt.

This quilt lends itself to using the strip piecing method and it would certainly speed up the time required to sew all the pieces together.

Take care to press your seams towards the darker fabric or this may show on the right side of your quilt.

Lastly make your pieced border. This quilt uses 2 3/4" cut pieces around the border but when playing with a computer to design your quilt this is what worked. When making my pieced borders I usually look at my smallest pieces and decide on the what will work best for me.

I hope you enjoyed Joannes Designs Week27. Just 25 patterns to go!

---
My Amazon ads are my affiliate links. Thank you.
Sign up for my newsletter below!