Joannes Designs Week25


Black and White Cat Quilt 60" x 60"

Joannes Designs Week25 'Black and White Cat Quilt' a cat design I created using a pieced cat block. I love applique but thought there must be a way to create a pieced cat block that I liked. EQ7 definitely helped me out.

If you have never tried this quilting software then have a look at it - it is so much fun and makes difficult tasks so much easier!

If you prefer a different layout then I have shown one on the left here.

This quilt is made using 2 different blocks. The first is a simple 10 1/2" block in plain black or white fabric. The second block is the pieced cat. To make this block cut 1 1/2" wide strips of both black and white fabrics. Then using the rotary cutting guide you can cut the lengths.





To make this quilt you will need to make a total of 25 blocks. Each block is finished at 10" x 10" or 10 1/2" x 10 1/2" unfinished.

4 Black 10 1/2" squares
4 White 10 1/2" squares
8 Black Cat blocks
9 White Cat blocks

All sashing are cut 1 1/2" wide and 10 1/2" long. All cornerstones are cut 1 1/2" square.

To download the pattern, rotary cutting block guide or fabric yardage guide click on the relevant image below.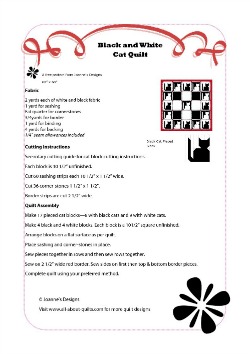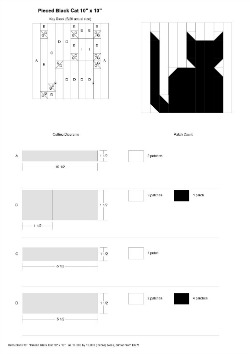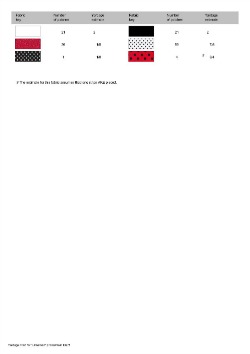 My advice when making this quilt:

There are a lot of pieces to each block so take care when cutting your fabric strips to ensure that your blocks all finish up the same size. It is amazing just how easy it is to cut a bit too wide and then wonder why you are having problems matching your seams!

Make up one cat block first before beginning on the assembly line of strip piecing.

Once all the blocks have been made lay them all out on a flat surface and then add in the sashing and cornerstones. At this stage I find it easiest to sew the quilt top together in rows. So begin either at the top or bottom and sew each row. Once all the rows have been sewn then it is time to sew the rows together.

Lastly add your border on.

I hope you enjoyed Joannes Designs Week25. Just 27 patterns to go!

---
My Amazon ads are my affiliate links. Thank you.
Sign up for my newsletter below!