Jar Block
Block of the Month
12 1/2 inch (unfinished)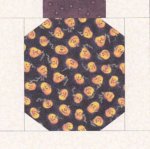 Jar blocks are quilt versatile and when viewing local quilt exhibitions there always seems to be at least one quilt made from them. I came across such a quilt that had a kitchen theme. Each block was made from a different fabric sporting either fruits or vegetables. The owner had made it as a wall quilt to be displayed in her kitchen - dining area.
Click on the image above to download a PDF of this BOM.
Within her quilt she had several different sized jars. Some were slimmer and others shorter. Either option would be easy to accomplish by adapting this pattern.
The other interest within her quilt was an opened jar lying on its side. She had some quirky feature around this and I can't quite remember if it was a couple of ants or a spider appliqued on! Either way it made an impression on me.
Making the base fabric of this block out of dark brown makes it look like the jars are sitting on the shelf. Have a play with this block making any alterations to suit yourself.

This block is very easy to construct. For the jar use fabric with actual recognizable objects printed on it, something that you might put in a jar. Think about food, candy, bugs, veggies, crayons, money, whatever your imagination can come up with. The background is in a white print and the jar lid is either in black or in a print that coordinates with the jar fabric.
Below is a table with the cutting information for the jar block.
| | | |
| --- | --- | --- |
| Number | Size | Fabric |
| 1 | 8 1/2" x 10 1/2" | Jar Print |
| 4 | 2 1/2" x 2 1/2" | White Print |
| 2 | 4" x 1 1/2" | White Print |
| 1 | 12 1/2" x 1 1/2" | White Print |
| 1 | 5 1/2" x 1 1/2" | Lid Print |
First make a 'snowball' corner on each corner of the jar fabric with your four white print 2 1/2" x 2 1/2". You will sew diagonally, trim the inner white print fabric and press the remaining fabric back toward the corner.
Now sew a 2 1/2" x 10 1/2" white print rectangle to each side of the jar. Press the seam.
Sew the 12 1/2" x 1 1/2" white print rectangle to the bottom of the jar.Press the seam.
Make the lid section by sewing the 5 1/2" x 1 1/2" lid fabric between two 4" x 1 1/2" white print rectangles, joining the 1 1/2" ends. Press the seams. Sew this unit to the top of the jar, pressing the seams.

You may want to make several identical jar blocks or some extra blocks with something different in the jar!!
Have Fun!!
---
Sign up for my newsletter below!