Ice Cream Treats

Block of the Month - 9" (unfinished)
I scream. You scream. We all scream for ice-cream!

You may choose your favorite ice-cream flavor when making this Ice Cream Treats Block.

Blackberry, chocolate or maybe pistachio - and serve it in a crisp brownish waffle cone, on a vanilla/light beige background. Yum!
Cut your background fabric piece 9" square, complete your appliqued goodie using your preferred method. You will need a 5" fabric of scrap for both your ice-cream choice and for your waffle cone. Embellish as you wish!
The image below is the actual size used to make this block.
Click on the image below to download a PDF of this BOM.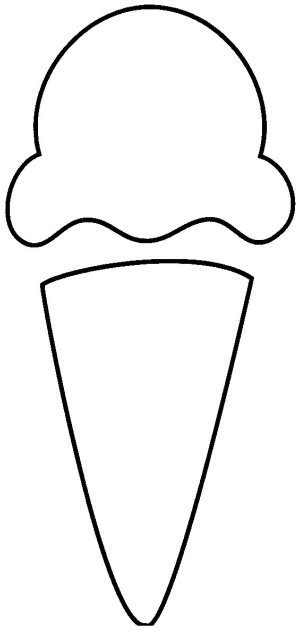 Looks almost good enough to eat, doesn't it?!
You may want to make a lot of flavors!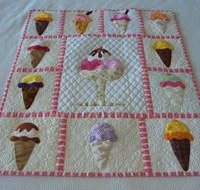 Above is the finished quilt made from this block. I love the creative block placement as well as the sashing that has been used. All the contributing blocks were delicious and very different from one another. I have listed below some of the embellishments that were made by quilters within our group.
Wee beads were randomly sewn onto the ice-cream to look like sprinkles
Two different flavors of ice-cream were added one on top of the other
One quilter had added a dark brown fabric over part of the ice-cream to look like it had been dippped in chocolate sauce
As above but with a strawberry sauce

A red cherry was sewn on the top of the ice-cream
A chocolate flake like fabric had been added at an angle to look like it was coming out of the ice-cream
This block when made into a children's quilt would be great as a color learner. With a bit of thought I'm sure most colors can be attributed to some sort of ice-cream flavor. Care with embellishments would be necessary as beads etc for under 3 year olds can be problematic.

---
Sign up for my newsletter below!